Important security update, Complete Concierge hospitality PMS interface now supports Mexican dial plan, API improvements, more Supervision features, pop-up CRM URL, improved StatsExplorer filters, new VTech models supported, bug fixes
IMPORTANT NOTE! When upgrading from version 5.0.59 or older, follow the following procedure (click to expand)
If you are upgrading a Spark system, you may ignore the special instructions.
For any other system of version 5.0.59 or lower please perform the following steps:
1. run
yum install xorcom-centos-release
2.  run
yum update
This will ensure the system will be updated from the correct repositories.
Security
Intrusion prevention fails to block some connection attempts. If using CompletePBX 5.1.13-5.1.17 please update as soon as practicable.

Non-secure hostname created by StatsExplorer.
Supervision Switchboard
Open URL for CRM integration: 

Supervision Switchboard now allows users to open a URL with relation for the call, to receive the other partiy's details via CRM or similar systems.

When using the Windows Companion for Supervision, the Companion will automatically pop up a notification with the caller's details from the designated CRM.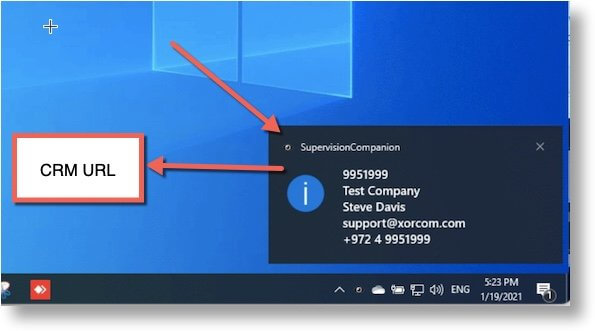 Authorized users can now activate/deactivate DND status for other users.

Authorized users can now hangup calls of other users.

Tags can now be added and edited after the call has ended, from the Suservision call history.

Pickup caller-ID – when performing a pickup in Supervision the user will now see the original caller-ID and not the extension number from which she picked up the call.
StatsExplorer – Call Statistics
Contact Name and Company are now two different fields: 

Improved filters:

Date and Time are now seperated in Filters.  It is now possible, for example, to run a report for January 1 to January 12 between 8:00 am and 2:00 pm.

Days of week option added. It is now possible, for example, to run a reports for Mondays and Tuesdays of a given period.
Additional PBX Improvements
Complete Concierge hotel PMS interface now provides information for billing per the Mexican numbering plan. 

API find_module function added
PBX Operating System
CentOS update to v.7-9.2009.1.el7

Asterisk updated to 16.15.1
Bug Fixes
Phone features were missing on the User Portal.

In some cases, Call Completion makes duplicate calls to the initiating extension. 

Complete Concierge not alerting PMS on unanswered wakeup calls.

Trunks not working properly when RPID enabled.

Old backups were not getting deleted by the cleanup script.

GUI crash on the status report

"Orphan ring groups" – in some cases changing the ring group's last destination does not affect the "source" of the relevant extensions and prevent deletion of extensions.

StatsExplorer filter does not clean up previously selected parameters in some cases

Call recordings links did not lead to the recording

"Stuck" channel appeared in some places even though it was not open