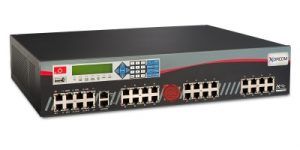 Elastix – Recommendations and upgrades
What is our recommendation about Xorcom Elastix based systems in the field?
Elastix official announcements
During the last days Elastix made a clarification about the changes made.  Here is the original clarification, and here are the main points:
Elastix 2.5 is old, includes end-of-life components and does not provide the highest level of security
It is not the best practice to use this software(!)
Elastix 4 and Elastix MT are no longer provided
Elastix 5 will be based on 3CX (not Asterisk, not open source)
Elastix add ons will probably not be supported in future versions
Elastix will no longer be free besides the very low end systems
Digium, Sangoma and OpenVox cards will not be supported by Elastix 5 [obviously the same goes for Xorcom Astribanks]
What does it mean for Xorcom users?
If you are using CompletePBX it has absolutely no direct impact on you.
However, if you are using Elastix-based systems (XE, XR and TS series) you should seriously look into upgrading to CompletePBX 5, which is up to date, secure and extremely user friendly.
YES!  The upgrade is 100% free for all Xorcom systems under warranty.
Upgrade includes unlimited license for CompletePBX 5 for the Xorcom unit.  Labor of Xorcom partners may have a fee.  Please contact your Xorcom partner for more details.
To check your warranty status go to:  https://m.xorcom.com  you will need the unit's serial number.
If your system is no longer under warranty contact your Xorcom partner regarding costs of upgrade.
What happens if I am not able to upgrade the system?
If for any reason you are not able to upgrade your system from Elastix to CompletePBX, we will continue to support the system throughout the warranty period and under service agreement.  If your system is not covered by either of the options contact your Xorcom partner to check renewal options.
We are committed to provide service options for any Xorcom system.