IP Phones for VoIP PBX Phone Systems
The Xorcom UC Series of IP phones provides high definition (HD) sound quality and a comprehensive range of traditional business and VoIP features to the enterprise desktop.
Get a Quote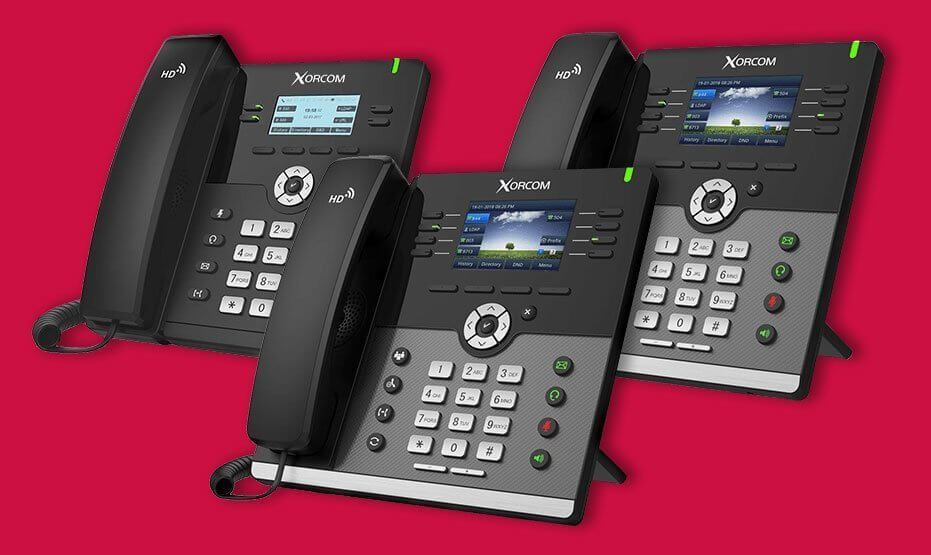 Xorcom UC Series IP Phones
EOL (end-of-life) products
Key features of Xorcom IP Phone Series
Excellent sound quality – high definition voice support in both the handset and speaker.
Robust feature set – includes all traditional (Call Hold, Park, Pickup, Transfer, etc.) and advanced (Busy Lamp Field, Do Not Disturb, Caller ID, Call recording, etc.) operations supported by the Xorcom IP-PBX.
Efficient call management – easy access to a variety of standard features via smart keys, such as voice messages, call log history, and contact list.
Simple deployment – plug & play, auto detection and provisioning by Xorcom IP-PBX server, phone- and Web-based configuration.
End-to-End Communications Solution
As part of the award-winning Xorcom product line, these advanced, reliable IP phones integrate seamlessly with all Xorcom IP-PBX and Astribank models in an end-to-end communication solution. They ensure that businesses get the most out of their telephony system by maximizing employee productivity during communication interactions.