VoIp Phone System for Real Estate Agencies
Flexible, reliable and rich communication options for staff who are frequently on the move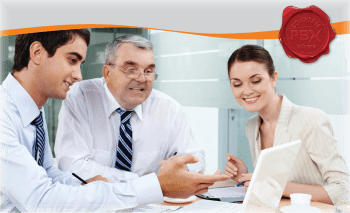 VoIP Phone System for Real Estate Agencies
Mobile communications are a necessity for real estate agents who are frequently on the move, meeting with clients, partners, and outsource providers. Time-based consulting fees require accurate tracking of business operations. Client satisfaction is greatly impacted by agent availability and productivity. The unique requirements of these agencies can only be met by a flexible, reliable communications solution.
Ease of Use and Cost Reduction
CompletePBX is an integrated voice, video, and data communications solution designed to support the needs of high-paced  real estate agencies. Each agent and team leader has access to an intuitive Web interface to manage their communications in real-time. The Web-configurable interface enables system administrators to rapidly add services, users, and sites in support of changing projects or new office configurations.
Data services can include Internet connectivity, site-to-site VPNs, and even email/Web hosting. CompletePBX offers real estate agencies enhanced capabilities, single vendor simplicity, and cost savings.
VoIP Benefits for Real Estate Agencies
Customized inbound call routing for fast and efficient call processing
Cell phone and smartphone integration
Powerful Find Me / Follow Me services
Interconnection of various offices to provide seamless desk-to-desk dialing
Extensive call reporting
Call monitoring and recording
Voicemail and fax-to-email (unified messaging)
Redundancy through Xorcom's TwinStar Plus hot failover capability to maximize business continuity
Real Estate Phone System User Review
As per Indar Kumar, VP of IT, Shriram Properties:
"The Xorcom solution is an exceptional contribution to our sales process! The Xorcom Enquiry Management System identifies the caller, routes to the appropriate sales team members on cell phones, automatically updates call details to the sales team leader, who acknowledges the call by sending email and SMS to both caller and sales agent. Department managers receive an authentic live report about actual campaign response."
"Keve Info Systems has developed a smart customer interaction management system."
"Xorcom IP PBX systems are deployed in four of our branch offices. Every branch office can call the others over an IP MPLS network, which saves costs and improves employee productivity. It is the best phone system we ever experienced."
"We expect the solution to save us 40% for telephone bills on the inter-branch calls. With the addition of GSM SIP gateways, call charges to other destinations have been slashed by 45%."
Additional Information About Real Estate Phone Systems
To determine which configuration best suits your real estate agency, click here.
For a detailed list of standard features in CompletePBX, click here.
For case studies from customers in the real estate sector, click here.