VoIP PBX Phone Solutions for Hotel Chains, Motels, Spa and Resorts
VoIP and PSTN phone system integrates with PMS and leverages existing hotel and resort infrastructure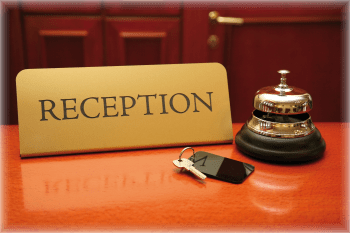 VoIP PBX Phone System for Hospitality sector: Hotel Chains, Motels, Spa and Resorts
Businesses in the hospitality sector, such as hotels, motels, spas and resorts, can now improve their bottom line by upgrading their hotel phone system to a cost-effective IP-PBX. Not only does the transition to an IP-PBX save on inter-company communications and improve efficiencies by integrating with the business' data network, the Complete Concierge solution, comprised of CompletePBX and an interface to the hotel's PMS (Property Management System), leverages existing infrastructure (cabling and analog phone sets).
Ease of Use and Cost Reduction
Unlike proprietary systems, the open source Asterisk-based CompletePBX overcomes the need for layers of support and per extension license fees for maintenance equipment costs. CompletePBX simplifies communications management and reduces costs by converging voice and data over a single channel.
Additional Information About Hotel Phone System
Hotel VoIP PBX Phone System User Review
As per Nerissa Whittington, Owner/Manager – The Springs Resort & Spa:
"We chose Xorcom because the hospitality-focused features of Complete Concierge, the Astribank hardware, and the PMS integration met our requirements perfectly — at half the cost of some of the competing bids."
Read the full The Springs Resort & Spa case study here.
Hotel VoIP PBX Phone System Specifications
Interfaces to the leading hospitality systems (e.g., Micros Opera, Protel PMS, Amadeus Hospitality, Optima PMS, Brilliant, Newhotel, etc.)
Includes an integrated call accounting package
Excellent support for hotel telephony infrastructure:

Supports up to 1,000 analog ports
Supports SIP phone with auto provisioning for hotel administration
Wake up call

19″ rack mountable solution
Integrated wakeup (can be set by hotel staff or by guests)
Integrated browser based operator panel
Front desk check-in/check-out
Guest name applied to room upon check-in
Vacant applied to room upon check-out
Activation of phones for calls at guest check-in
Deactivation of phones for calls at guest check-out
Activation of guest voicemail box upon check-in
Cleaning of all voice messages in guest voicemail box upon check-out
Built in room state system for control of room status and maids
Built in and fully integrated Call Accounting System with adjustable rate tables
User-defined extensions
Extension groups
Auto attendants
Voicemail boxes
Voicemail-to-email
Fax-to-email
Call monitoring
Call recording
Integrated paging over IP telephone speakers
Ring groups
Custom messages
Music-on-hold
Public Address (PA) and zone PA support
Xorcom IP-PBX (choose either CompletePBX or standard model)
Windows PC (for configuration and software maintenance purposes)
Notes:

Connection from the Xorcom PBX to the hotel PMS is over Ethernet.
No serial connections are supported.