VoIP Phone System for Government
Registro Único para la Administración Tributaria Municipal (RUAT)
"The Xorcom high availability solution provides reassurance about our communications system uptime and is compatible with the mission and vision of our institution. Countless customer support services can be provided by this server, starting with CRM solutions (customers from local governments, police, customs and the general public), virtual appointment books loaded in IP phones, IVR's and customer queues."
Xorcom Distributor:
CommLogik Argentina
Integration Partner:
ICTEC S.R.L. Ing. Sergio Daniel Villarroel Balderrama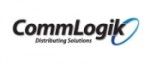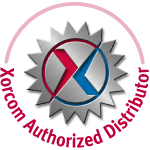 Main Challenge
Expand the functionality of the telephone system to meet the needs of the claimants at lower cost and with greater efficiency.
Xorcom Solution
Two XR3000 IP-PBX with TwinStar for dual-server redundancy, and two Astribanks (XR0047 and XR0010) to connect to the PRI and PSTN.
Overview
RUAT is an institution whose mission is "To design, develop and manage computer systems that allow local governments, Ministry of Economy and Public Finance and Police to carry out the powers conferred by law with regard to taxes and revenues." This involves maintaining constant communication with the local governments to provide timely and effective support. Consequently, one of the main concerns is to have the necessary number of telephone lines to meet claims at lower costs and with a wider range of services (IVR, CRMs, etc.).
Customer Requirements
RUAT's main requirements were:
IVR (Interactive Voice Response) for RUAT's main line and local governments of Bolivia
Means for analog telephony integration (Panasonic PBX) and IP telephony  (Asterisk)
Voicemail
Virtual Fax to reduce paper usage
Support for a large quantity of IP phones
Proposed Solution
Generate reports about the use of SIP channels, external calls (local and to other municipalities) with the VoIP technology
Creation of a personal telephone directory with a Click & Dial feature
Time conditions for IVR system
High redundancy (RAID in disks, and Server Cluster)
Customer service queues
The system integrator proposed a high availability solution at based on the Xorcom TwinStar (redundant servers) approach. The required equipment included two XR3000 IP-PBX appliances and two Astribanks (XR0047 with an E1 port supporting 30 channels and an XR0010 with 16 FXS ports and 16 FXO ports).
Network Diagram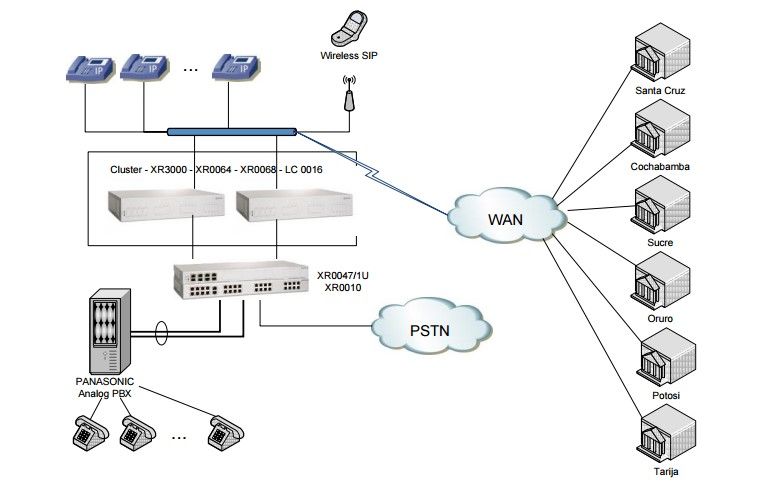 Results
In the RUAT headquarters in La Paz, a high redundancy solution based on XR3000 and featuring the TwinStar configuration (clustered servers) that can communicate with the old Panasonic phone system through the Astribanks (XR0047 and XR0010) was installed. As a result, analog extensions can be dialed using a trunk in both directions (Analog -> IP and IP -> Analog). Additionally, the connection of Astribanks to both servers provides high availability. Local governments in Bolivia have Asterisk servers with Digium cards and are interconnected with the Xorcom XR3000 server through VPN tunnels in the Internet, reducing costs. The Xorcom server can support a large number of IP phones. It is possible to communicate with SIP devices or wireless phones with the addition of a wireless access option. The Xorcom server is connected to the PSTN via an E1 line with 30 voice channels, enough to handle the volume of user requests and complaints, to contact service supplier companies, and to communicate efficiently by using queues and IVRs.