VoIP Phone System for Office - in UK
JD-Law
"It was a pleasure to work with Phones Correct which provides an excellent product, stands behind it and commits to our satisfaction. Phones Correct succeeded in delivering us with a tailor-made solution which met our needs."
"The capital cost of implementing the proposed solution was half the price of purchasing a traditional solution yet by using IP telephony all the functionality is still provided. While the cost savings are impressive, what is really great about this solution is the flexibility; it does everything and much more than the competitors – with no hidden costs."
Distributor
VoIPon Solutions UK Ltd.
Integrating Partner
Phones Correct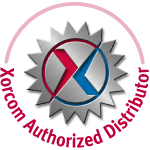 Main Challenge
The customer was opening a new office so he needed a totally new system with phones
Xorcom Solution
XR2047 with one PRI connection and eight snom 320 phones
Overview
JD-Law is a law firm with four partners and two secretaries, one board room and one spare office for growth. The firm was new, opening its first office, and therefore required a brand new telephone system, including phone sets. The requirement was for something flexible at an affordable price, to be implemented within two months. The customer was hesitant to commit to a pure VoIP solution and therefore needed a connection to BT (British Telecom – a UK Telco provider). The requirement for eight DIDs mandated an ISDN30 (PRI), with only eight of the 30 channels active.
Customer Requirements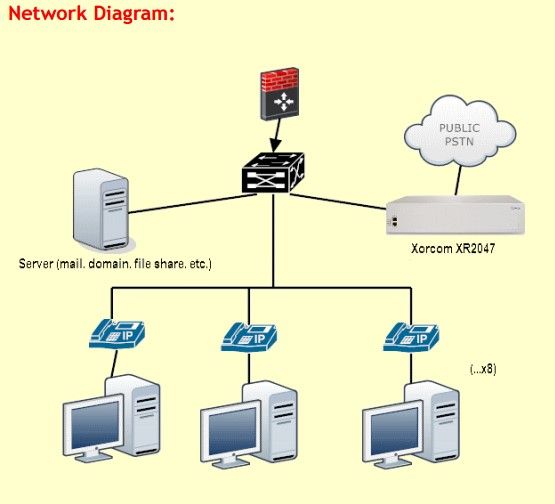 General
The firm consists of eight different offices, each requiring their own DID
Two secretaries need to be able to answer the main number
Three different time conditions need to be configured
A general voice mailbox where clients can leave a message
Eight private voice mailboxes
Voice mail messages should be sent to email addresses.
Fax utility for sending and receiving faxes
No restriction on outgoing calls
Outbound caller ID for everyone should be defined as the main number
Call Flow Requirements
Call Flow for Main Number
8am to 6pm – calling the main number rings at both secretary extensions. Call is kept in a queue with 15 second intervals saying "press 1 if you want to leave a message, or continue to hold". After 2 minutes the caller is forced to leave a voicemail if not answered.
6pm-8pm – calling the main number rings all phones except the secretaries' phones (who have gone home by that time). If no one answers it goes to the general voice mailbox.
8pm-8am and weekends – calling the main number results in an announcement saying the office is closed. Please leave a message.
Call Flow for Partners
Each partner has his own number. Calling the private numbers rings at the respective extension. If no one answers and it is between 8am -6pm there is a message saying "press 0 for reception or wait to leave a message" and if it's after 6pm and no one answers the called party goes straight to the personal voice mailbox. Pressing 0 rings both secretaries' phones.
Fax Requirements
YajHFC software must be installed on each computer to work with HylaFAX server.
A single fax number must be dedicated to incoming and outgoing fax traffic.
The received faxes should go to a general email address.
Notification emails should be sent indicating if the fax transmission was successful or not.
Call Queue and Voice Mail Requirements
All incoming calls must be answered either by a person or routed to voicemail in order to avoid a situation where there is no response and the caller simply hangs up.
All employees should receive their voice mail by email, in addition to having it available via the telephone handset.
The two secretaries must have BLF (Busy Lamp Field) keys configured on their phones allowing them to pick up a call and see if a partner is on the phone at the touch of a single key.
All the phones need to be configured to activate CFW (Custom Firm Ware) to a mobile number using a function key. Another function key should deactivate the CFW.
Employees should be able to call from outside to a DID and activate or deactivate CFW for their extension.
Proposed Solution
The proposed solution consisted of the Xorcom XR2047 which provides one connection to ISDN30 (PRI) with BT, and 8 snom 320 phones.
Results
It took Phones-Correct, the integrator, three days to handle the entire implementation, addressing all the requirements listed above. For example, Phones-Correct created a queue for the main number where callers on hold hear music. At 15-second intervals they hear a message saying "press 1 if you want to leave a message, or continue to hold".