VoIP System for Multibranch - US and Mexico
Huntington Foam, Manufacturer
"The ability to call directly has changed the way we communicate company wide. We collaborate and quickly share information across the various plants far quicker and with greater ease than before. We pick up the phone and dial three numbers to reach any Huntington Foam employee any time."
"Unified Alerts has worked tirelessly to deploy VOIP across the corporation, including a site in Mexico, numerous remote personnel, and the plants, while maintaining critical business links – all while reducing cost."
"Deploying Xorcom in multiple language locations has been a breeze. We have several Spanish and English sites running dual language systems and now a site running French and English as well. The staff has commented several times on the ease of use for the end user being in the native language."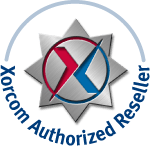 Main Challenge
Link four existing PBX in the U.S. with new PBX located in
Mexico to provide direct dialing across the corporation (for huge cost savings).
Xorcom Solution
Xorcom XR2047 IP-PBX
E1 R2 port
VoIP System Installation in the US and Mexico – Overview
Huntington Foam, a manufacturing firm with locations in Pennsylvania, Michigan, South Carolina, Arkansas and Mexico, has multiple PBXs linked via iax2 trunks so they can share conference bridges, line costs by least cost routing, and direct extension to extension dialing.
Unified Alerts, a certified Xorcom reseller, came in when the customer had been left a tad high and dry. Although the customer already had four Asterisk-based PBX systems that were working fine, the original supplier did not have the technical skill to activate an additional (international) circuit successfully. Xorcom and Unified Alerts worked very hard to get the fifth PBX, located in Mexico, to link with the other four PBX systems located in the United States.
The result: a happy customer and direct dialing across the corporation, saving them thousands of dollars in line costs.
Customer Voice Communications Requirements
The major requirement was to activate an additional circuit to establish and connect an IP PBX at the Mexico location with the existing phone systems located in the four US-based branches.
Proposed Solution
Results
The additional benefit of built-in conferencing has allowed for substantially reducing call costs (by using VoIP between the branches) and more information sharing.