VoIP System for Multibranch - India
Shriram Properties

"
The Xorcom solution is an exceptional contribution to our sales process!
The Xorcom Enquiry Management System identifies the caller, routes to the appropriate sales team members on cell phones, automatically updates call details to the sales team leader, who acknowledges the call by sending email and SMS to both caller and sales agent. Department managers receive an authentic live report about actual campaign response."
"Keve Info Systems has developed a smart customer interaction management system."
"Xorcom IP PBX systems are deployed in four of our branch offices. Every branch office can call the others over an IP MPLS network, which saves costs and improves employee productivity. It is the best phone system we ever experienced."
"We expect the solution to save us 40% for telephone bills on the inter-branch calls. With the addition of GSM SIP gateways, call charges to other destinations have been slashed by 45%."
Xorcom Certified VoIP PBX Distributor:
Keve Info Systems

Main Challenge

Implement a telephony system that identifies callers
andbroutes calls intelligently to mobile phones
Xorcom Solution
One XE3000 (for headquarters) and three XR2000s for each of three branch offices, with E1 PRI and FXO analog ports
VoIP System Installation in India – Overview
Shriram Properties runs aggressive campaigns in local print and visual media to promote and educate the public about newly launched realty projects in multiple Indian cities.
To handle the incoming calls Shriram Properties wanted an efficient call routing system that would identify the caller and route the call to the appropriate sales team member. All sales agents travel with a GSM mobile phone in the city. Every call to the sales group was to be centrally manageable by a sales coordinator. Upon completion of the enquiry call, both the caller and sales agent should be notified via SMS (Short Message Service, or text message) to both parties' mobile numbers specifying their names. A dashboard was to be maintained in order to provide performance graphs and call statistics, by project.
The selection process was straightforward since the customer was intent on adopting an open-source solution. Shriram management reviewed Keve Info Systems' Xorcom solution, an Asterisk powered system, and the vast experience in multiple verticals was apparent.
Initially the project was awarded for the headquarters (HQ) and three branch offices, with a completion time frame of four months, but expansions are progressing such that every six months an additional office is added to the cloud.
Customer Voice Communications Requirements
The customer's main request was that a custom application be built over an existing Asterisk/Elastix implementation. The application needed to be able to process multiple DIDs to route to predefined sales group members on the road, travelling across country. All calls needed to be monitored and managed via a single Web interface. SMS notification to both parties was also required.
Additionally, all enterprise telephony features such as conference calls, voice mail, ring groups, call forwarding, time-based routing and follow-me were requested by the client. The previous phone system did not have such features.
All the locations had only analog phones and Shriram Properties wanted to preserve that investment.
Proposed Solution
Bangalore HQ – XE3000 with 2 E1 PRI and FXO, 4 Astribank units with 32 analog ports
Cheannai Branch – XR2000 with 1 E1 PRI and 8 FXO2 Astribank units with 32 analog ports
Vizag Branch – XR2000 with 1 E1 PRI and 8 FXO, 2 Astribank units with 32 analog ports
Coimbatore Branch – XR2000 with 1 E1 PRI , 2 Astribank units with 32 analog ports
The integrator followed a very safe play implementation. Since the old system was still able to manage calls, Xorcom IP-PBX was tested with full functionalities on an IP network, without disturbing the actual call flow. Every requirement was first configured and tested, and then the switch-over took only a few minutes. The receptionist simply noticed a brand new IP phone on her desk, that's all!
Results
Before the Xorcom telephony solution was deployed, call management at Shriram Properties was extremely difficult. There was no support for tracing calls, recording calls, IVR (Interactive Voice Response), voice mail, nor trunking over IP to multiple locations.
Having the database integration and routing calls driven by a Web application was a distant dream, and none of the system integrators approached stepped up with proposals. With the Xorcom solution and Keve Info System's custom application integration, the system now behaves exactly as we dreamed.
Multi-Branch IP Telephony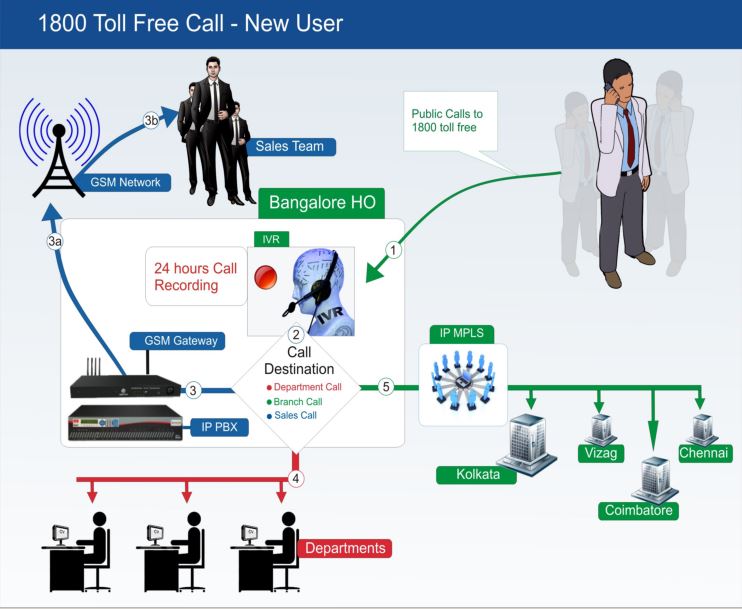 Shriram Properties connects its office to the telecom world via digital telephony (E1 PRI). The general public calls a centralized voice switch in each city and, with the help of an IVR, talk to either a dedicated project team or a particular department, or even to other branch offices. With E1/PRI telecom trunks, virtually every Shriram Properties employee, in any of their branch offices across India, can have a direct number.
The Xorcom voice switch can intelligently route calls to any pre-programmed destination, based on the caller's input via the IVR.
For example, if a caller chooses to talk to someone associated with the Kolkata project, the system will immediately route the call to the appropriate sales team. Similarly, a caller can talk to different departments within the Bangalore headquarters, or in other branch offices.
Additionally, the caller can call the branch offices directly from the IVR. The branch head or project coordinators can receive the calls and distribute or forward the calls to the appropriate sales person and/or departments within the relevant branch, or to other branch offices.
Calls are recorded and logged in the centralized server, located at the Bangalore headquarters.
Direct Inward Dialing to Dedicated Project Teams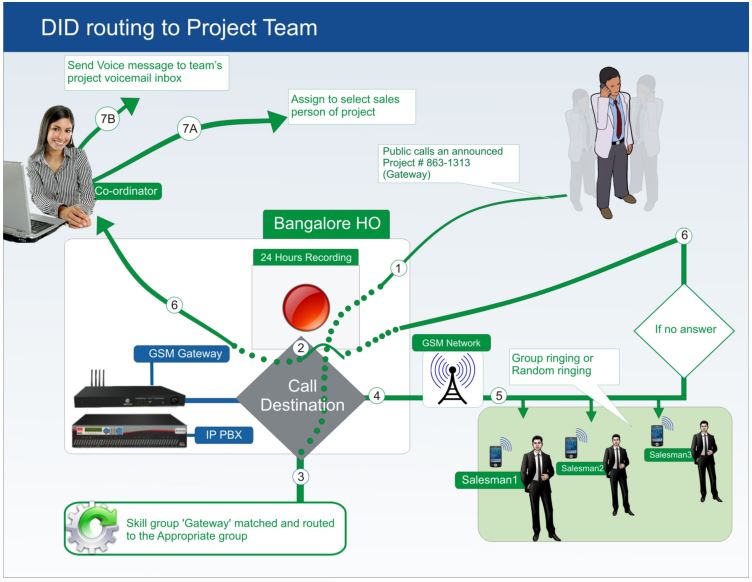 Shriram Properties now advertises dedicated enquiry numbers (Bangalore-based numbers) for each project. Any call for a specific project can immediately be handled by one of the commuting sales team members assigned to that phone number.
If no one answers the call within the specified time limit or number of rings, the call will be sent back from the GSM network to the coordinator of that particular project. With the help of a call management suite, s/he would re-assign the call to a specific salesperson, listen to the call if required, during the call coordinator can talk to salesperson, but the caller cannot hear the conversation ("whisper"). The coordinator can call the client back, choose a sales person and conference them in.
Project teams can have a voicemail box which is only accessible by the coordinator. Voicemails can be sent as an email attachment to select salesperson(s). Detailed call logs are available and recorded sessions are stored on the hard disk.
Direct Inward Dialing (DID) for Branch Offices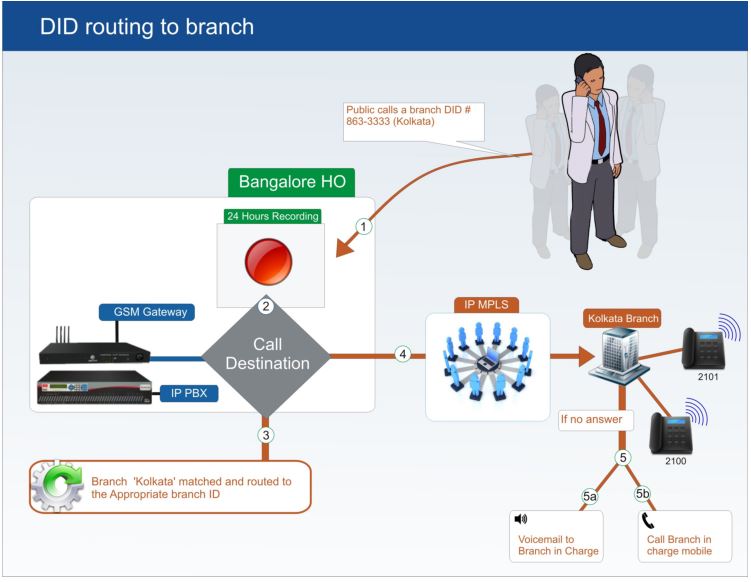 All branches of Shriram Properties are reachable (without an IVR in the middle) by dialing an assigned phone number(s) for a particular branch. More than one call can be processed simultaneously to any of the branches. The caller can have a three party calling with multiple branches as well.
The same rule applies to outbound calls. Branch offices can use their assigned extensions in Bangalore headquarters to call outside lines. These lines are always reserved for the particular branch.
Both incoming and outgoing calls are recorded.
Since Shriram Properties branches are connected through an IP MPLS network, incoming calls can be answered by any of the branches or salespersons.
Inter-branch Calling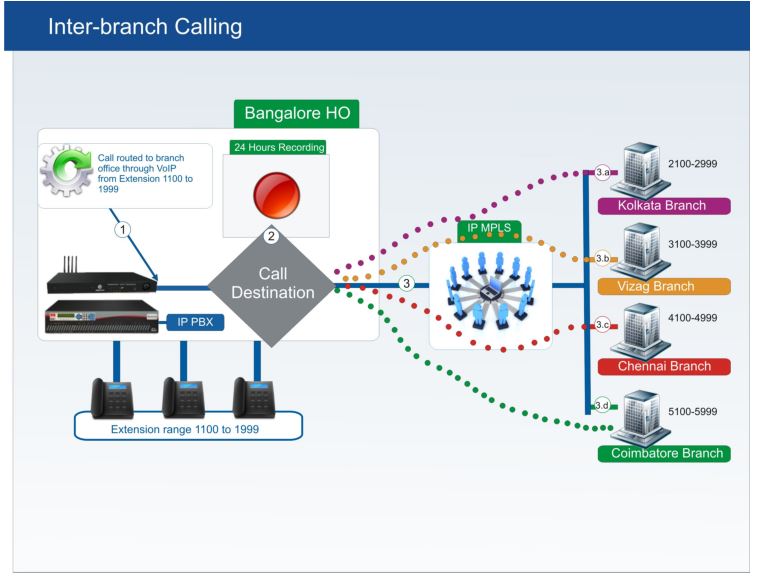 Inter-branch calling among Shriram Properties branch offices is free-of-charge, regardless in which city the employees are located, as long these branches are connected through the IP MPLS network.
Any of the employees can move to any branch while maintaining their own published extension or DID. Move, Add and Change functions are far easier with VoIP.
Another important benefit is multi-party audio conferencing. The system can support 32 audio conferences, where each conference session can accept 60 participants.
Call Control and Management by Coordinators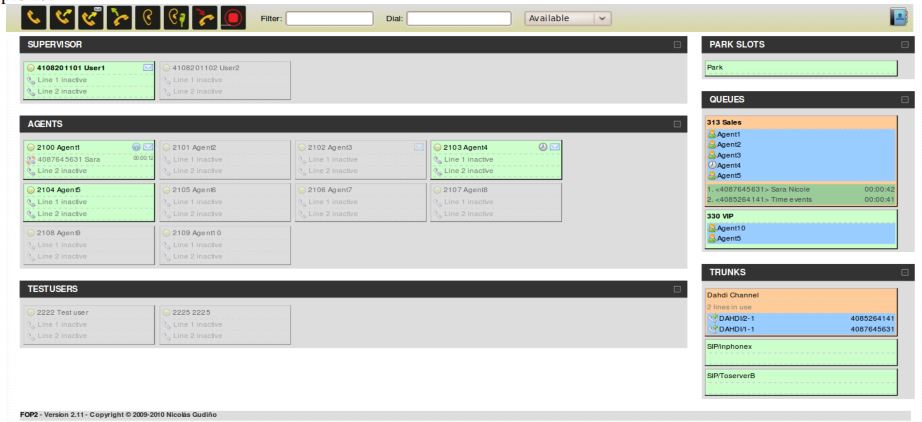 Centralized display of call progress for the entire enterprise can be put on a single Web page. The figure above is a dashboard used by sales coordinators use to control their projects. In the upper left corner of the screen there are call control buttons, which the coordinator uses to manage any calls under his/her project(s). Multiple projects can be assigned to the same coordinator.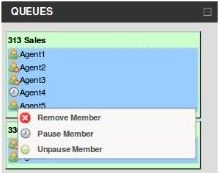 A sales coordinator can remove or suspend a salesperson from handling sales calls. This permission can be controlled if not necessary.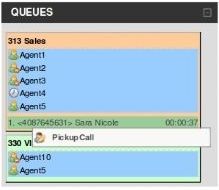 The sales coordinator can pick up a call even before that call goes to the salesperson. This option is ideal for handling busy situations, or when identifying VIP callers.