VoIP System for Multibranch - Romania
INTRASOFT International S.A. (IT)
"As we speak, the system has
314 days uptime
without noticing any problem during this period. In between, we were able to introduce new extensions, change the data for already configured extensions and do other reconfigurations that were considered necessary, on the fly (
with no system reboot
)." "
Our telephone bill is currently less than half than what we used to pay
. This of course is also related to the utilization of the new dedicated E1 line, which is more cost-effective than the previous solution, but also due to the
practically zero cost for talking with other branches
via VPNs and Soft-Phones." "
Mobile telephony costs have also been reduced
as a result of the usage of Soft-Phones while on business trips." "We are
fully satisfied with the Xorcom solution
selected. The
integrator has also done a great job
on implementing the initial requirements but also on training us to use the system for day-to-day tasks."
Main Challenge
Implement a VoIP-based telephony infrastructure for the
relocated office in a new building with time restraints
Xorcom Solution
XE2000 PBX Server with 1 x E1 port and Astribank USB Channel Bank with 8 x FXO ports + 8 x FXS ports, CISCO SMB phones
VoIP System Installation in Romania – Overview
INTRASOFT International S.A. was relocating an office in a new building, and wanted to use the occasion to implement a VoIP-based telephony infrastructure consisting of a main PBX and office phones. The challenge was to provide a solution in the short delivery time available, in synchronization with the client relocation plan. The existing solution was based on a proprietary analog/digital telephony platform. Using typical telephony features on these analog phones (such as call forwarding, teleconference, redialing, etc.), was a cumbersome task, and very few employees were actually using such features (awkward key combinations were needed to perform the simplest functions). Conference calls were almost impossible to organize, and when they were organized, the voice quality of the conference was very poor. In addition, the previous solution was based on a licensing scheme per extension, resulting in additional costs for each new extension added to the system.
Customer Voice Communications Requirements
Basic PBX configuration

Define Outbound Routes

Define Inbound Routes

Conferences

Music on hold

Over 50 Extensions

Queues

Ring Groups

Pick Up Groups

Voice mail (VM) to electronic mail

Specific routes to call transparently extensions in other branches located abroad (ex: Athens)

Possibility to increase the number of extensions with no additional fees

Proposed Solution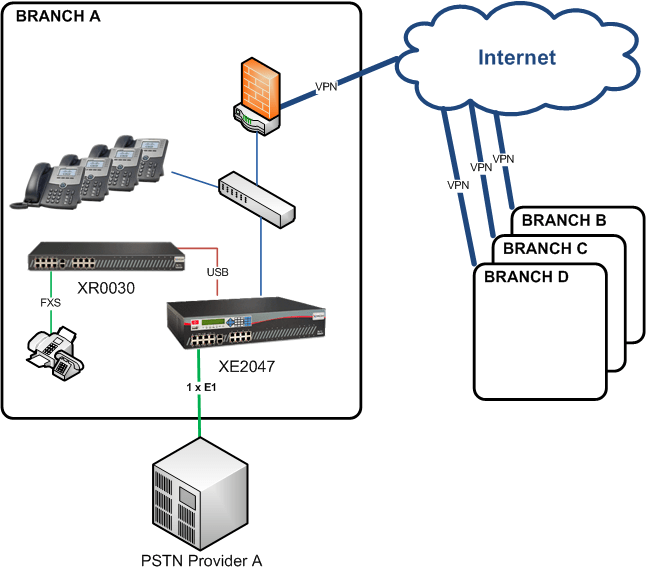 XE2000 PBX Server with:
Astribank USB Channel Bank with:
8 x FXO ports
8 x FXS ports
CISCO SMB phones
Modulo Consulting, the integrator, performed both solution design and equipment configuration (solution delivery).
Results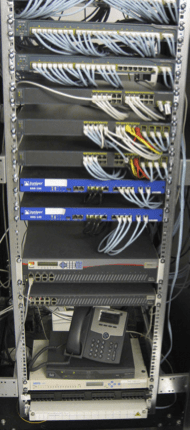 The implemented solution is currently fully functional and meets specific functionality requests from customer. The new solution offered several advantages, namely:
Lower installation cost (hardware + installation /configuration) as opposed to proprietary solutions
Lower maintenance cost (there was practically no system maintenance required during the entire year that the system has been functioning)
VoIP advantages, such as calling to internal extensions using Soft-Phones via VPN when located at the client premises, have drastically reduced the usage of the mobile phones under roaming conditions. The flexibility that the Soft-Phone solution provides was one of the first things that was utilized.
The ability to organize (and propose to organize for our clients) conference calls by using the out-of-the-box teleconferencing functionality of the new solution.
Voice-mail!
Overall quality of service has been dramatically improved
People are more likely to pick up a phone and talk to their colleagues on the other side of Balkans, resulting in reduced problem solving time.