Xorcom VoIP PBX Customer Reviews
Read what our customers say about Xorcom products and partners...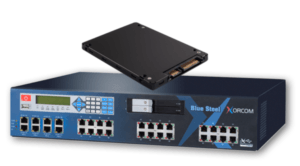 Starting the month of April 2019 all Xorcom CompletePBX appliances of series CXR2000 and up are going to be equipped with SSD (Solid State Drives) rather than the currently-used enterprise-grade HDD. The change will significantly increase read and write speed, which means significant performance increase in some scenarios, especially for heavy-duty systems, TwinStar and call centers. This change...
read more
Telecommunications – Odyssey Systems (United Kingdom)
"The quality of support and speed of response to queries is second to none and I would wholeheartedly recommend David and TeleSpeak when looking for a flexible and adaptive Telecom solution."
Hospitality – The Springs Resort & Spa (USA)
"We chose Xorcom because the hospitality-focused features of Complete Concierge, the Astribank hardware, and the PMS integration met our requirements perfectly — at half the cost of some of the competing bids."
Education – El Dorado Schools (USA)
"With Xorcom, we didn't have to change our network switches, we were able to fully implement the proper VoIP design on the existing infrastructure."
Manufacturing – Crossville (USA)
"The fact that we got the ability to make our own decisions in the future, and weren't hamstrung by expensive licensing and support, were what drew me to the Xorcom product."
Hospitality – Hotel Jerome (USA)
"The Xorcom solution allows us to get what we need, and then later expand, without having additional burdens such as license restrictions."
IT – Correct Group (United Kingdom)
"The Xorcom system is a reliable, scalable and easily configurable voice solution."
Hospitality – Hotel Paradies (Switzerland)
"We were surprised how quickly the installation process went… we were able to use the new systems without problems on the afternoon of the first day."
Senior Care – Redstone Highlands (USA)
"The Xorcom platform gives us the ability to deploy additional extensions very quickly, saving both time and money over the prior platform."
Hospitality – Filitheyo Resort (Maldives)
"Xorcom made our IP Telephony transition very smooth. The new IP telephony system gives more personalized treatment to our guests, facilitates better service opportunities to our staff, and provides better control to the technical team."
"The Xorcom high availability solution provides reassurance about our communications system uptime."
Real Estate – Shriram Properties (India)
"The Xorcom solution saves costs and improves employee productivity. It is the best phone system we ever experienced."