Hotel Phone System, USA
Grand Crowne Resorts - USA
"I personally have been installing telephone systems for over 15 years and have never had an installation go as smooth as the ones I did with I3 Technology Group!"
"I cannot say enough about the professionalism and expertise that everyone at I3 Tech group maintains. These guys know what they are doing and respond to our needs in a professional and timely manner. I even had their 'old school' Nortel techs help me out with some issues we had on the old system before we had completed the new system installations and they came right in and completed those tasks in a timely and professional manner."
"I recommend the I3 Xorcom CompletePBX hotel phone system and I3 Technology group to any type of business model that needs a reliable, cost-efficient, user-friendly, easily upgraded, open source telephone system installed by a professional communications company with the knowledge and resources to get the job done right."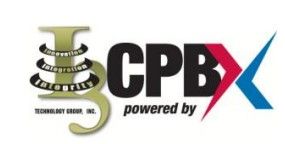 Main Challenge
Reduce costs of expansion, maintenance and support for existing Nortel PBX

Xorcom Solution
Enterprise-wide I3 CompletePBX VoIP/Analog solution, including a network of 10 servers and 29 Xorcom Astribanks
Phone System for Hotel
Overview Over three years ago the IT department at Grand Crowne Resorts started looking for a replacement telephone system for our existing Nortel PBX, due mainly to the fact that every time we were looking to add and/or upgrade the telephone system to accommodate a new building coming on-line or merely adding new and enhanced features, the cost was extremely high (as anyone with a Nortel system can confirm!). We came to the conclusion that upgrading the Nortel was not an option, especially after the dissolution of the product and subsequent take-over of Nortel by Avaya. So, the search began for a new telephone system. After receiving several bids for a new system most vendors came in at around $300,000.00 and up for all sites (Grand Crowne Resorts is located in three states with multiple business sites).
Customer Requirements
Quotes were obtained from several industry leaders, including Toshiba, Shoretel, Cisco, Avaya, Nortel and Mitel. At the tail end of receiving all quotes we decided to get an additional quote from a previously unknown vendor which turned out to be the open source I3 Xorcom CompletePBX ("I3 Xorcom CPBX") from I3 Technology group out of Joplin, MO. The quote from I3 Tech Group came in at a much lower cost than the industry leaders, including a substantially lower cost for continued support.
As anyone familiar with the telecom industry knows, the continued support – and especially software licensing fees –can be very expensive! With that said, any one of these systems could have worked well for Grand Crowne/Surrey Vacation Resorts. However, after getting the quote from I3 Tech group our CEO tasked the IT department with verifying that this solution – without all of the expensive on-going licensing cost – would work for Grand Crowne.
At first we were a little skeptical of a full VoIP solution for our sites, due mainly to two facts:
we have a large amount of analog extensions for our condominiums (we have 672 total condos at Grand Crowne and Surrey Vacation Resorts)
an analog deployment with an open source VoIP system had never been done by us with any degree of success
After receiving assurances from the technical staff with I3 tech group, John Johnson, network and VoIP engineer, and I3 Tech group owner Brian Carpenter, Grand Crowne Resorts decided to go with the I3CPBX solution.
Proposed Solution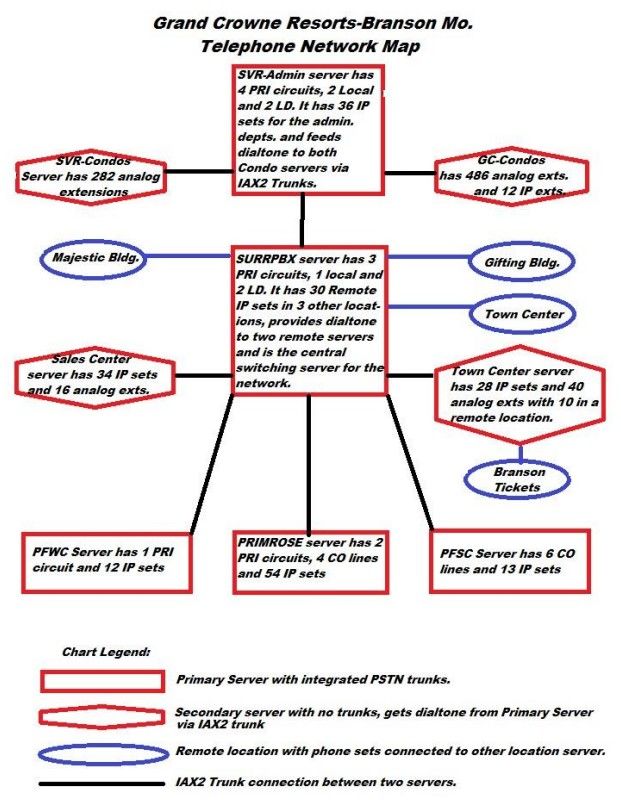 A network of 10 servers connected via IAX2 over a corporate WAN allowing an integrated Dial Plan and Least Cost Routing between facilities and shared trunking allowing them to turn off non essential PRI circuits to maximize savings. Two condominium locations use 29 Astribanks providing 928 analog extension ports allowing Grand Crowne to utilize their past investment in hotel type analog phone sets.
Result
We started with our Springfield location and moved on from there. When we completed our Tennessee sites I actually did those installs myself by merely mounting the server in our rack on-site, making the simple connections, and calling John and having him remote into the system. I personally have been installing telephone systems for over 15 years and have never had an installation go as smooth as the ones I did with I3 at our Tennessee sites. After the system came up on the network all we had to do was un-box and plug in the pre-programmed telephones and they came up fully operational with the end user's name and extension numbers assigned. The downtime for all of our telephone system installations has been significantly lower than standard telephone system installations. With the open source I3CPBX you just mount the equipment, make the connections, and start plugging in your phones! Of course our larger analog deployments had to be cross-connected (like standard analog telephones to the Xorcom analog channel banks) but we were able to do these connections while the old Nortel system was still up and running, moving over the extensions one building at a time. The overall larger installations went smoothly as well.
Conclusion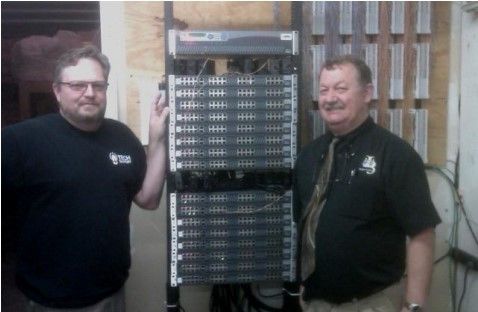 As per Danny A. Henderson, IT Telecomm Manager – Grand Crowne Resorts: "I cannot say enough about the professionalism and expertise that everyone at I3 Tech group maintains. These guys know what they are doing and respond to our needs in a professional and timely manner. I even had their 'old school' Nortel techs help me out with some issues we had on the old system before we had completed the new system installations and they came right in and completed those tasks in a timely and professional manner." "I recommend the I3CPBX telephone system and I3 Technology group to any type of business model that needs a reliable, cost-efficient, user-friendly, easily upgraded, open source telephone system installed by a professional communications company with the knowledge and resources to get the job done right."