IVR Software in VoIP Systems
IVR (Interactive Voice Response) vs Auto-Attendant in VoIP Systems, differences and commonalities between IVR and Auto-Attendant explained
IP PBX for Call Centers
Get a Quote
IVR Software (Interactive Voice Response) and Auto-Attendant Explained
IVR Software (Interactive Voice Response), or auto-attendant in VoIP (Voice Over IP) Systems, can be as simple as a single menu (e.g. "press 1 for Sales, 2 for Technical Support or 3 to order service") or as complex as a large tree of menus that interconnect.
For simplicity, we will use the term IVR in this article.
Auto-attendant is an automatic way to route calls to the proper person in the organization via a set of user-menus.

Auto-attendant is often referred to as IVR (Interactive Voice Response) though technically the two are not identical.  While an auto-attendants job is to connect a caller with the proper representative, an IVR is aimed at processing information and providing a result (for example, play the balance on a bank account).  However, obviously an IVR may have fully automated options (as described above) and also options to talk to human representatives, thus there is an overlap between the two.
Both auto attendant and IVR aim at increasing efficiency, by letting users choose the options they are looking for and reach the relevant information or representative without having to wait a long time in the queue just to have a person ask them what they are looking for.
Auto-Attendant (left) & IVR Software (right) Layout Example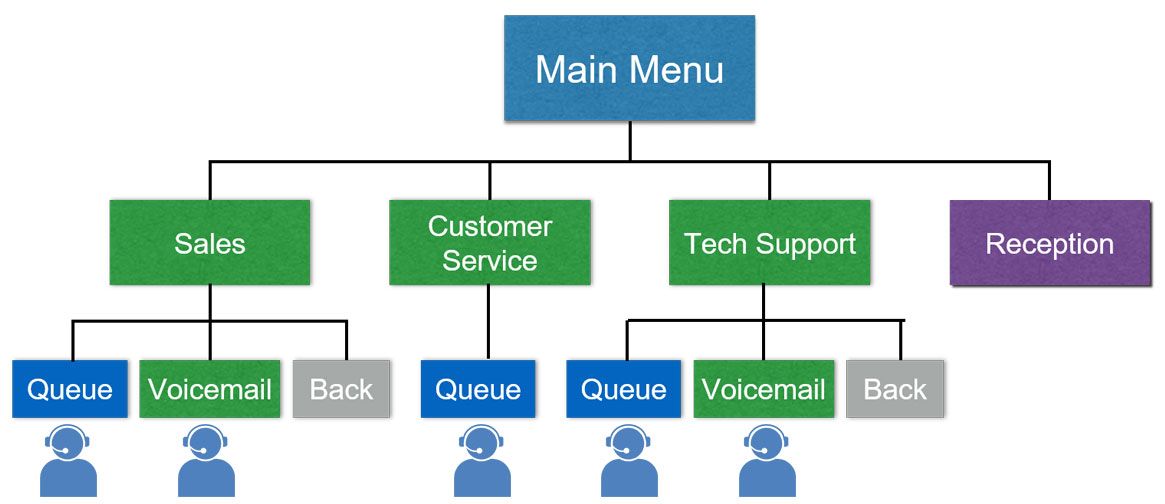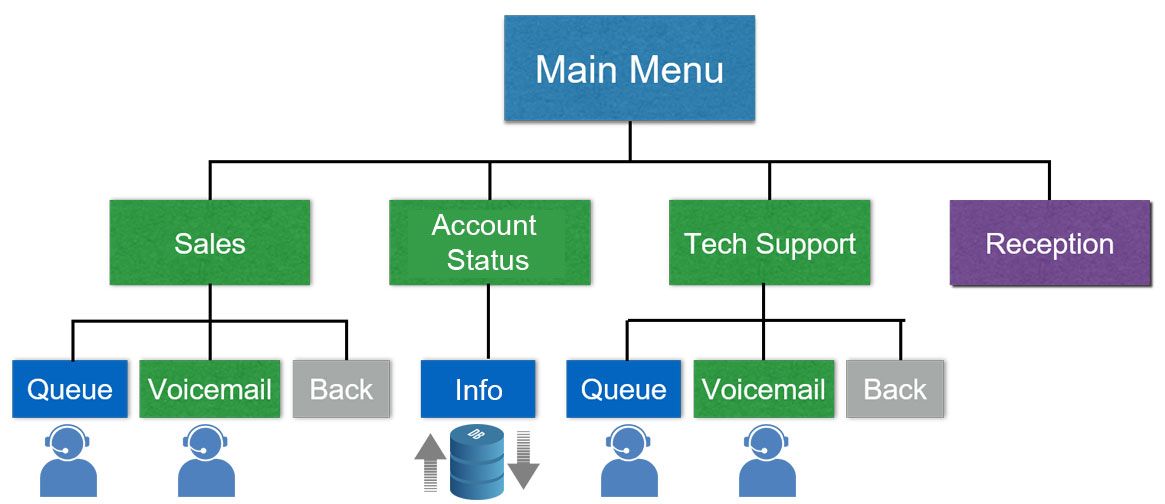 Efficiency vs. Service in IVR Systems
A good IVR setup can significantly increase the organization's phone interaction efficiency, by quickly matching between a caller and the right representative without having employees wasting time on finding out who the caller needs to reach.  However, incorrect setup of the IVR or auto-attendant, or lack of maintenance thereof, might create a bad user experience and leave callers without proper service or with a bad taste in their mouth.
How to Avoid Wrong IVR Setup
As in many cases, the golden rule is a good measure.  Put yourself in the caller's shoes.  Call into the organization and see how complicated or easy it is to reach each and every function or person.  With simple IVR setups, it may only take a few minutes, but with more complex IVR it may take a while and require systematic work, but the time will be well spent.
Typical IVR setup problems may include:
Too complicated menu set.  Some IVRs have many options, still, it is always a good idea to reduce the number of menus to a reasonable minimum to make it easier for the caller to navigate.
"Broken links" – especially if the IVR went through several changes, it is important to make sure it is coherent, and all menu options lead to the right place.
"Dead end" – when IVR menus don't give the caller an option to go back.  This is extremely annoying when the IVR is complex and the caller will have to call again and go through six menus to get back to the same place in the IVR.
Unclear instructions – this may be caused by the recording itself not being of high quality, the recorded person speaking too fast, or in an unclear manner, or the spoken text not being clear enough.  Always think how the recordings sound from an outside caller's point of view.
Xorcom CompletePBX IVR Menu Management Interface
All Xorcom CompletePBX VoIP systems feature free, unlimited IVR/Auto-attendant.  This IVR may be used as a simple Auto-Attendant, integrated with 3rd party database or as a stand-alone IVR.
CompletePBX IVR is very simple to setup and navigate through as an admin, which makes it a flexible marketing and customer service tool for the organization.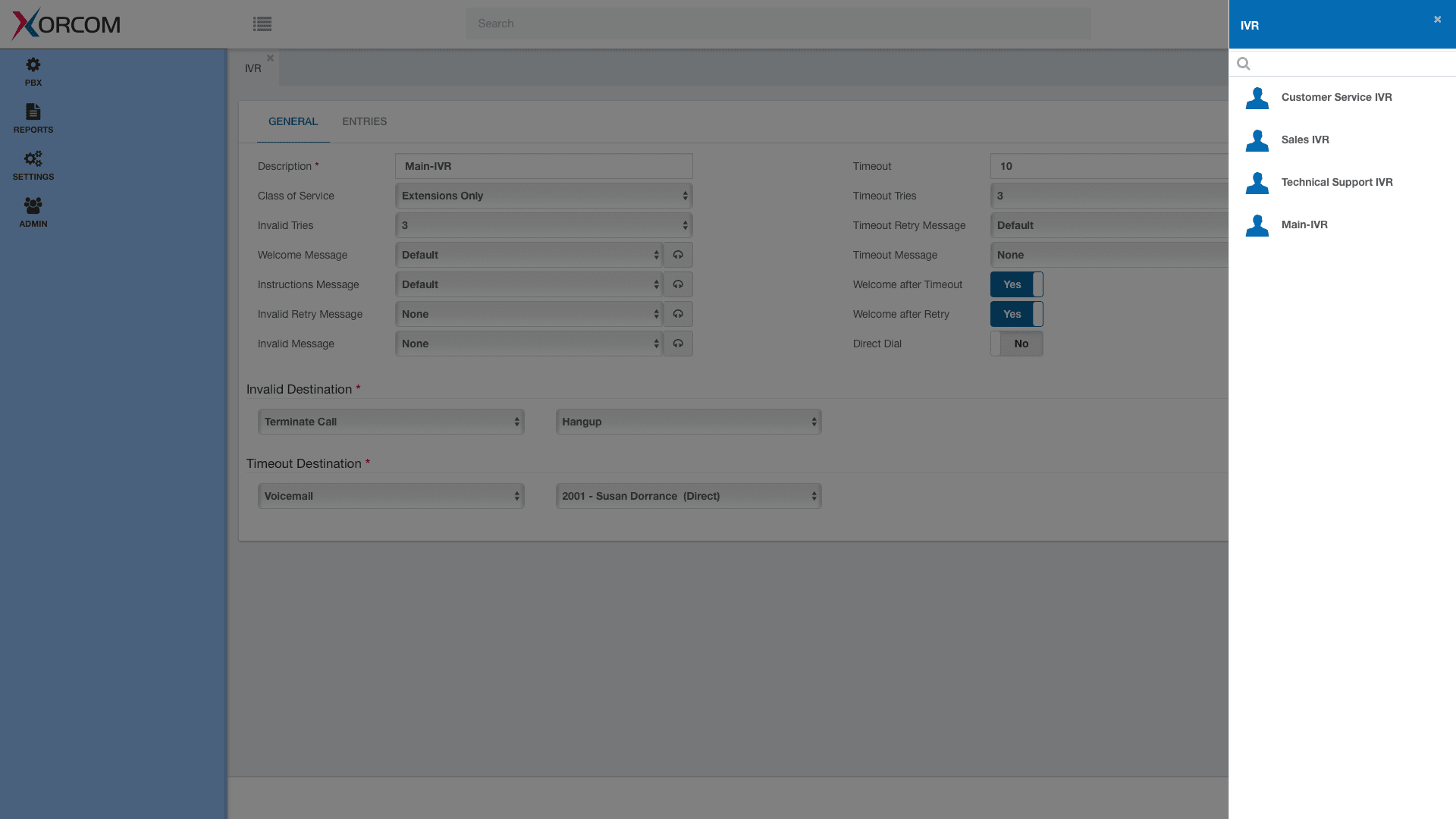 CompletePBX Call Center PBX comes with unlimited IVRs that allows creating anything from a simple one-level auto-attendant to complex IVR trees that optimize the call flow and level of service.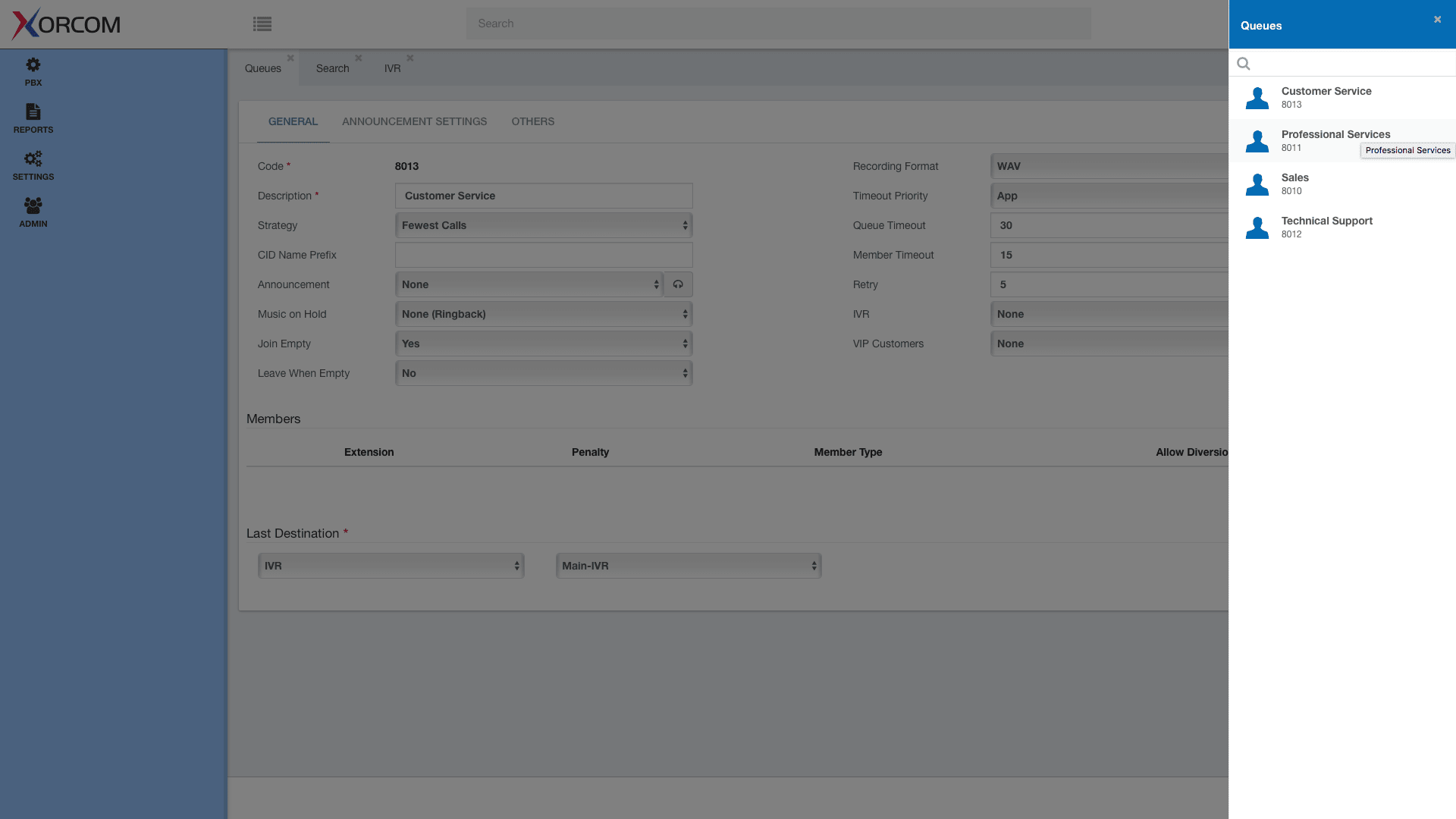 CompletePBX Call Center PBX offers unlimited queues.  Queues and IVRs are easily linked together to create an optimized call flow for maximum efficiency and level of service.
IVR Voice Recording – Pro from the Get-go
It is a good idea to have an external professional person record the greetings and IVR menu instructions.  It is not recommended to use any of the organization's employees.  The reason for that is that a professional narrator sounds… well, professional.  Also, an employee may leave the organization at some stage, and further recordings will have to be made with a different voice.  While it may sound like a small issue, callers immediately pick those differences up and the experience is not as smooth.
Unlike twenty years ago, customized voice recordings are now very affordable and worth the investment.
Visual IVR & Queues Layout in Xorcom CompletePBX 5
Relations tab is now available for Queues and IVR software modules.  The Relations tab provides a visual layout of the call-flow and makes setup simpler.  It can be used to verify a new setup makes sense and to easily understand the implications of planned changes in CompletePBX configuration.
IVR Flexibility and Ease of Use
IVRs need to be flexible.  Requirements and services change over time, organizations test and optimize, grow and shrink and the IVR should always have the correct and optimal setup.  The best way to achieve that is by making sure the IVR is easy enough to manage so that it can be managed by a person inside the organization.  Replacing voice recording, changing menu options or even creating new menus should be a simple task that does not consume a lot of time and does not require long training.
This way the IVR can always be in sync with the latest state of affairs and become a dynamic marketing and service tools to make sure customers get the best experience possible, while the organization doesn't waste resources.
"The Xorcom phone system implemented by tTech and the call accounting system from Hansen Software have resulted in significant cost savings to H&L while improving communications both within H&L and with its customers."
How to define IVR, video tutorial: