Hotel Phone System - Micros Fidelio Certified
Implemetations, video tutorials, brochures, user reviews and additional information
Get a Quote
Read More
CompletePBX allows complete flexibility in the installation by providing tools for integration in almost any hotel IT infrastructure.
Below are some common setups that serve different types of hotel phone system infrastructure including different types of extensions (analog/VoIP), different types of lines (PSTN – digital or analog / VoIP), using a CompletePBX appliance (hardware) or virtual machine (software) and single-server and high-availability setups.
Hotel Phone System Implementation Examples with CompletePBX
Traditional Hotel Telephony Infrastructure 
In the below set up the hotel is using traditional telephony infrastructure, including analog phones in the rooms and analog or digital lines to connect to the outside world.
The system is based on a single CompletePBX appliance which communicates with the hotel PMS.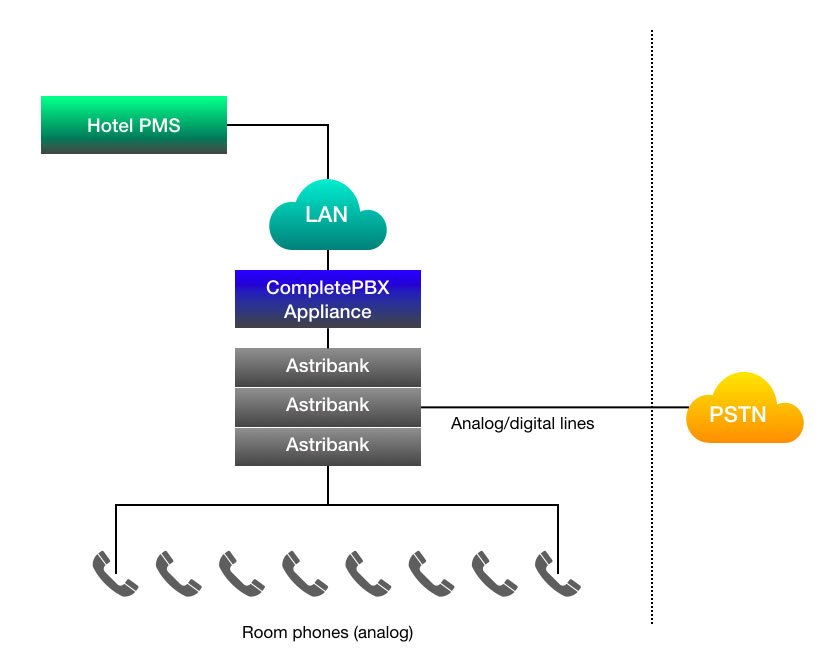 Hotel Phone System – High Availability with both VoIP and Traditional Phone Lines in the Hotel
The below hotel phone system has full redundancy between the two servers. Astribank USB gateways are being used to connect both room extensions (analog phones) and PSTN (analog or digital) phone lines.
In addition, there are VoIP lines connected via the LAN, and hotel PMS connectivity.
CompletePBX Virtual Machine VoIP Only Implementation
This implementation uses CompletePBX virtual machine (software only) running on a hypervisor (such as VMware, KVM, etc.) to provide a full software-only VoIP hotel phone system with PMS interface.
High Availability CompletePBX Virtual Machine for Hotels
Just like the above system, this system is a fully virtual system running on the hotel's virtualization platform (hypervisor) and connected to VoIP lines and VoIP room extensions.  However, in this example, the system has full redundancy comprised of two CompletePBX instances and automated failover.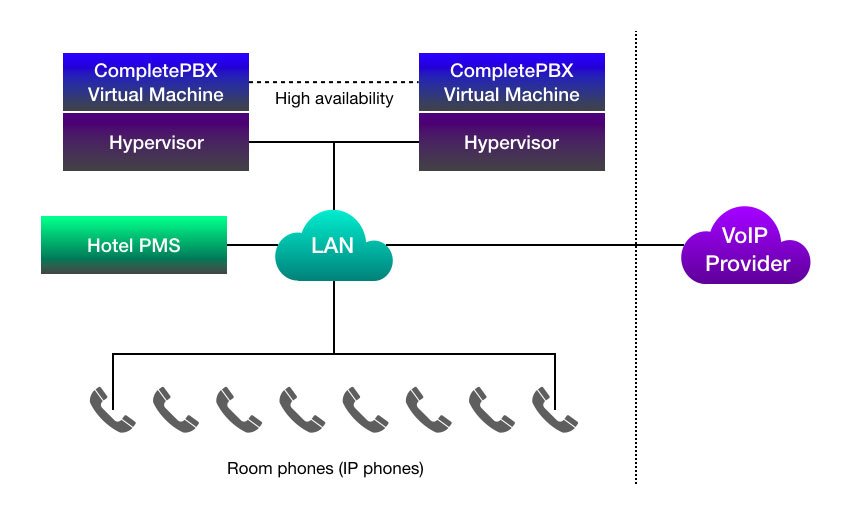 High Availability with CompletePBX Appliance – IP Phones and Lines
The below system is a VoIP-only system, using IP phones in the rooms and VoIP lines.  In addition, the system features high-availability and hotel PMS interface.
Hotel Phone System with IP Phones for Hotel Rooms and PSTN Lines
The below system uses IP phones for the hotel rooms and PSTN (analog/digital) trunks to connect to the outside world.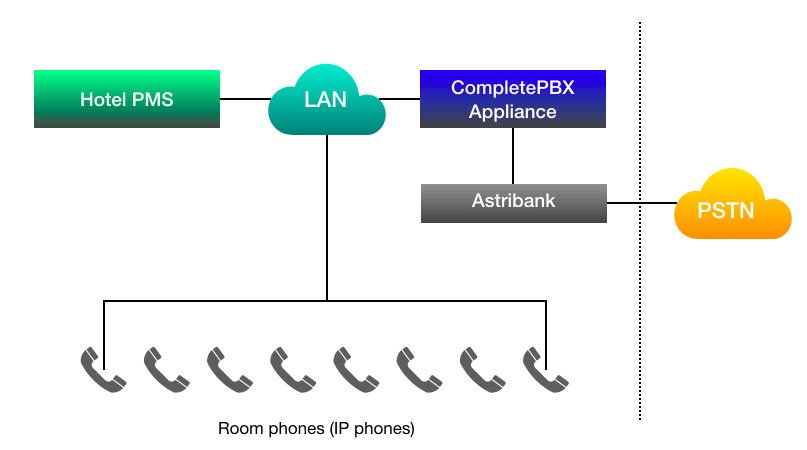 Hotel Phone System - additional informaton
User reviews, presentations, brochures
Hotel phone systems instructional videos: