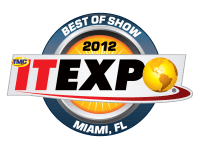 Business Telephony Solutions from Xorcom Awarded "Best of Show" at ITEXPO East 2012
Asterisk Based IP-PBX Offering Recognized as the Best of Open Source at the Leading B-2-B Communications Trade Show in Miami, Florida
Misgav, Israel – February 14, 2012 — Xorcom today announced that its open source based business telephony solutions received the "Best of Show" award in the Open Source category at TMC's recent ITEXPO East 2012 in Miami Beach, Florida. Xorcom has been providing business telephony solutions based on Asterisk® – the leading open source platform for telephony – since 2004, and continues to augment and enhance its offering with features and functionality designed to provide the reliability of proprietary systems with the flexibility and cost-effectiveness of open source solutions.
Xorcom Continues to Expand and Enhance Product Line
In line with the company's drive to continually expand and enhance the capabilities of its business telephony solutions, Xorcom made three announcements at the event:
Xorcom will be launching the XV3000, a line of multi-point video conferencing solutions bundled with its high-end IP-PBX, starting in Q2/2012.
Xorcom has released a product that will allow automated fail-over of FXO lines to pre-defined FXS extensions in the event of a power outage or Asterisk malfunction.
Xorcom will include two IP phone models and an expansion module in its product offering to complement the existing IP-PBX product lines.