VoIP Phone System for Hotel
Hotel Paradies Hideaway
"We were surprised how quickly the installation process went… we were able to use the new systems without problems on the afternoon of the first day."
"When our old PABX failed three times during a single month of operation, and spare parts had to be sourced from some dusty old warehouse at extraordinary cost, we realized that it was high time to act."
"Especially frustrating was the fact that we had continuously paid huge sums of money on one of these legacy rental contracts, which in actual fact meant that we had purchased the old system several times over."
"We were surprised how quickly the installation process went. Originally, two days had been set aside, but Cinehaus had planned so well, that we were able to use the new systems without problems on the afternoon of the first day."
"Whoever still thinks that open-source PABX systems are made for IT-geeks only, should reconsider," says Lisa Roos.
"Our new phone system is highly professional and meets all of our requirements and more – and that for the price of the smallest conventional PABX. Also, we receive all software updates free of charge.
Integrator:
Axel Bambach Cinehaus
Germany
Tel: +49 8362 7059291
Main Challenge
Modernize this remote hotel's phone system to support trunking to VoIP providers while maintaining current analog infrastructure.
Xorcom Solution
TS2000 TwinStar high availability solution IP-PBX, Astribank XR0032 with 4 BRI and 24 FXS ports, XR0008 with 32 FXS, XR0108 Redundant Power Supply unit, Complete Concierge PMS interface, 5 snom 821 and one snom 870 IP phones
Overview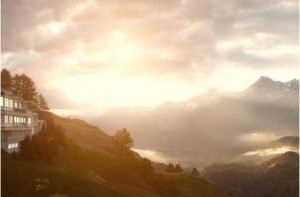 With only 23 spacious guestrooms and suites, the Hotel Paradies in Ftan, Switzerland provides an intimate and very personal setting. Art and culture have long had a home here, dating back as far as 1910, when the artist/painter Walter Bayer built a humble chalet as a small hideaway for himself and his family, positioned in one of the most exquisite locations in the Engadine region, on a sunny plateau at 1650 meters altitude. Some extensions to the building were added later and eventually, the original family home was converted to a guesthouse for family and friends. After the ship-owning and hotelier family Rahe, from Hamburg, bought the premises in 1995, the property underwent a series of highly detailed renovations. When General Manager Meike-Catherine Bambach was appointed in 2006, her briefing was to raise the service quality of this traditional alpine resort to the highest five-star level.
In 2011, it was re-inspected and certified as a 5-Star hotel by hotelleriesuisse, the official Swiss Hotel Association. The hotel's newly designed fine dining restaurant 'L'Autezza' – one of three dining options at the hotel – received 18 points in the current Gault Millau guidebook, and Head Chef Thomas Goeschel's kitchen was awarded a Michelin Star. The phone technology at the hotel, however, had been left largely untouched since 1996, when a proprietary PABX from DeTeWe (now Aastra) was installed together with a rental contract from the hotel's telephone provider Swisscom. Unfortunately, as time went by, the previously state-owned provider Swisscom "overlooked" informing their client that it no longer made sense to continue paying for their service rental, as the spare parts were no longer available, and furthermore the hypothetical purchase cost of the entire installation had already been paid for multiple times over the past 16 years.
When the power supply of the old PABX failed three times within a single month, and only a few untested and pre-used spare parts could be sourced from a dusty old warehouse at an unjustifiable cost, it was time to seriously consider upgrading to a new phone system.
Customer Requirements
Of course, the hotel's telephone provider and technology supplier were both keen to maintain the relationship with this long-term client. They sent in a Sales Executive with a proposal for a new proprietary hybrid system, but the price was way too high, considering that most hotel guests now use their own mobile phones for outgoing calls, and telephone systems are no longer considered profit centers. After realizing that the hotel had opened consultations with an independent advisor in order to look at more modern alternatives to the traditional phone system, they slashed the proposal price for a new system in half, with a few savings in hardware. However, this did not include VoIP-trunking, uninterrupted power supply, or dual server redundancy.
The proposed handsets for the hotel guestrooms were fairly unexciting and were unchanged for executive members of staff. The proposed price for trunking per analog extension was also expensive, so the hotel would have been forced to save money by disconnecting the employee quarters from having a private DDI line in each dormitory. This would have been a sacrifice for members of staff, and hotel management was reluctant to consider this option as a cost-saving measure.
Proposed Solution
For roughly the same price, however, it was possible for the hotel to purchase a more reliable Xorcom TwinStar, hot-swappable dual-server PABX instead, with enough Astribank analog extensions for all the guestrooms and staff quarters, BRI modules for the existing ISDN channels, plus VoIP trunking for inexpensive outgoing calls, plus very stylish-looking new telephone sets from world renowned Danish designer Jacob Jensen for the guestrooms, feature-rich SNOM 821 for their executive staff, and a touch-screen SNOM 870 with an extra SNOM Vision extension-panel for the Reception Manager. Furthermore, Xorcom's Complete Concierge software interface provided a solution to link the telephone system to their already existing investment in a Micros-Fidelio V8 hotel property-management-system (PMS), to which the existing point-of-sale (POS) restaurant registers are also interfaced.
The open-source nature of the Asterisk based phone system relieved the hotel of their previous tie to a single supplier for support, and they now have the benefit of receiving software updates as and when they become available from the worldwide developer community. The Xorcom equipment was ordered from distributor MapleLeaf Technologies in Bruckmuehl near Munich, Germany who expedited the goods in a timely fashion. The installation was then handled by German Systems Integrator Cinehaus, with the aid of independent Asterisk and Xorcom engineer Patrick Mahla. The hotel signed a contract, which was devised as a novel and attractive full-service lease option, including the purchase of the PABX at residual value at the end of contract, installation and maintenance, next day intervention even on weekends and holidays, including repair and spare parts, split over the length of depreciation time for a PABX investment in Switzerland, which is a period of 5 years.
Results
Through the use of outgoing least-cost-routing to Voice over IP Providers (VoIP), the hotel will be able to cut their telephone bill to less than half, while keeping their regular ISDN lines intact and taking no penalty in voice quality or reliability. The savings achieved will reach their monthly lease and maintenance cost for the new system, basically providing them with an upgraded PABX for free! And further savings will be possible in the near future, when optical fiber cabling becomes available in that region of Switzerland, as that would allow the hotel to rely on VoIP connectivity alone.
The installation and transition from their old PABX went smoothly. Two days were set aside for installing the new system, but after merely one day, all the work had finished, including the training of staff in the usage of their new tools. All parties were happy with the deal that was made, and Xorcom systems integrator Cinehaus was able to make a reasonable net profit, with lots of future sales potential, since the owner of Hotel Paradies has more than one hotel in his portfolio, many of which are also in need of an upgraded telephone system. In addition to these, he also has a number of new hotels, which are currently being planned, or already under construction.
Conclusion
With the signed full-service lease including next day intervention (even on weekends and holidays), minus the cost savings achieved because of least cost routing to VoIP providers, operating cost is equal or less than their previous PABX, basically providing the customer with an upgraded PABX for free, and ROI will be achieved 100% after 5 years. Future potential is good, since the owner of Hotel Paradies has a number of other individual hotels, as well as hotel chains. Why the Old PABX Had to Go…
"When our old PABX failed three times during a single month of operation, and spare parts had to be sourced from some dusty old warehouse at extraordinary cost, we realized that it was high time to act," said Lisa Roos, Reception Manager at Hotel Paradies. "Especially frustrating was the fact that we had continuously paid huge sums of money on one of these legacy rental contracts, which in actual fact meant that we had purchased the old system several times over."
"We were surprised how quickly the installation process went. Originally, two days had been set aside, but Cinehaus had planned so well, that we were able to use the new systems without problems on the afternoon of the first day."
"Whoever still thinks that open-source PABX systems are made for IT-geeks only, should reconsider," says Lisa Roos.
"Our new phone system is highly professional and meets all of our requirements and more – and that for the price of the smallest conventional PABX. Also, we receive all software updates free of charge."