VoIP Phone System for Medical Service
SAPP Emergencia Móvil
"When this project started, the goal was to improve telephony communications (mainly to centralized them and reduce their costs) and to reuse the Internet connections we already had in our company."
"In this first stage of implementation our company is greatly satisfied with the behavior of the new telephony system, Xorcom's PBXs and the great number of extensions installed."
"Being able to record all calls has been a great improvement for us. Now we can use these recordings for quality control and as legal evidence, if necessary."
"Our company's internal communication has benefited greatly from the new technology, not only in the cost savings, but also in the smart reuse of the existing resources, such as data connections and PSTN lines. Before, in order to communicate between extensions of different branch offices, two PSTN lines were utilized, now all the inter-branch call traffic goes through Internet and no lines are occupied!"
Xorcom Distributor:
CommLogik Argentina
Integration Parthner:
Giuffra y Asociados S.R.L.
Verónica Machado da Silva
voip@giuffra.com +598 2 6000325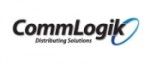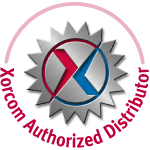 Main Challenge
Improve inter-office communication between 15 locations and lower costs
Improve the services provided via telephone
Use human resources more efficiently
Unify all company telephone numbers into one
Allow current software applications to interface with the new telephone system greater efficiency.
Xorcom Solution
3 XR2030 IP-PBX, 12 Linksys gateways, 18 snom IP phones, analog phones, softphones
Overview
Overview SAPP is a mobile medical service that covers the entire area of Canelones, Uruguay. With 15 clinics scattered throughout this territory, and many ambulances, their need for communication is critical. SAPP's constant efforts to improve the quality of the service they provide has driven them to undertake the process of obtaining ISO 9001 certification. As a result, they decided to trust Giuffra's experience and expertise to restructure their entire communication system.
Customer Requirements
Time-based Integrated Voice Response (IVR) solutions for main office interconnecting with the remote offices
Time-based Integrated Voice Response (IVR) solutions for each office
Time-based announcements
Time conditions
Transfer functionality
Inter-trunking between offices
Music on hold
Voice mail (VM) to electronic mail
Fax to electronic mail
Fax to physical device
Local and remote extensions
Queues
Call recording
Call recording Interface
PIN restriction for outgoing calls
Proposed Solution
Main office:
XR2030 (6FXS+10FXO)
6 analog phones
4 snom phones
1 softphone
Parque del Plata Office:
XR2030 (6FXS+2FXO)
6 analog phones
3 snom phones
1 softphone
Salinas Office:
XR2030 (6FXS+2FXO)
6 analog phones
6 snom phones
1 softphone
Barros Blancos Office:
Linksys Salinas SSC Office: 2 snom phones
6 Offices with PSTN lines: GW SPA3102 Linksys; Analog phones
6 Offices without PSTN lines:  GW PAP2 Linksys; Analog phones
VPN between Parque del Plata, Salinas and Pando
VPN between Barros Blancos y Pando
ADSL connection for the rest of the offices
Stages:
Implementation in Salinas Office
Implementation in Parque del Plata Office and interconnection with Salinas
Implementation in Pando and full interconnection with both Parque del Plata and Salinas
Integration of the rest of the offices to the new communication network
Integration of Barros Blancos Office into the communications network
Unification of the telephone numbers
Gradual cancelation of the remote offices' PSTN lines
Network Diagram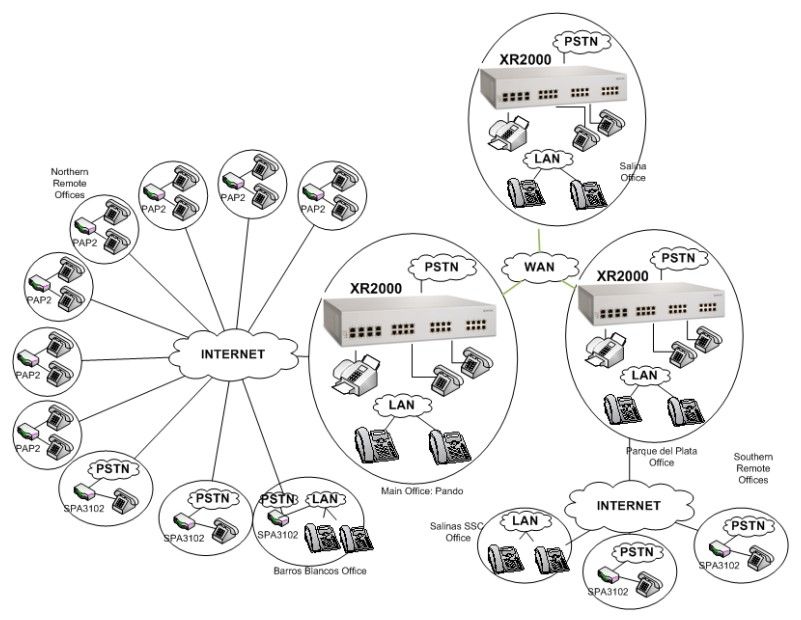 Results
The new system allows more control within the company and better telephone attention to the clients. Since SAPP provides medical assistance, it is very important to maintain control of the call recordings; with the new system all of the customer's needs are met. The company has a large load of administrative work; they receive many faxes from different companies that are rerouted to different departments within SAPP. To have them electronically handled in specific virtual fax boxes has reduced enormously the time required previously for correct distribution of faxes, not to mention the savings in paper.
With the previous system, in order to communicate with the administrative department (Salinas Office), clients needed to call a specific telephone number. Now, the calls can be routed from the IVR of the main office through a VPN (Virtual Private Network). Another big improvement is the new dialing rules, which enable staff to communicate between offices through the intra-company trunks. One of the most important improvements introduced in the new system is the integration with remote offices.
As a result, consultations with specialists, pharmacy stock availability checks, and various other tasks are performed much more efficiently, saving time and money.