PBX improvements and bug fixes.  Asterisk packages update.
IMPORTANT NOTE! When upgrading from version 5.0.59 or older, follow the following procedure (click to expand)
If you are upgrading a Spark system, you may ignore the special instructions.
For any other system of version 5.0.59 or lower please perform the following steps:
1. run
yum install xorcom-centos-release
2.  run
yum update
This will ensure the system will be updated from the correct repositories.
PBX Improvements
SIP Trunk Setup
Outbound proxy setup is now identical for stand-alone CompletePBX and tenant on a multi-tenant MT Manager system.

The Remote Outbound Proxy field was moved to the Peer section in the General tab

SIP trunk profiles added: It is now possible to create a SIP profile for trunks (Settings -> Technology Settings -> Profile) and apply it to trunks: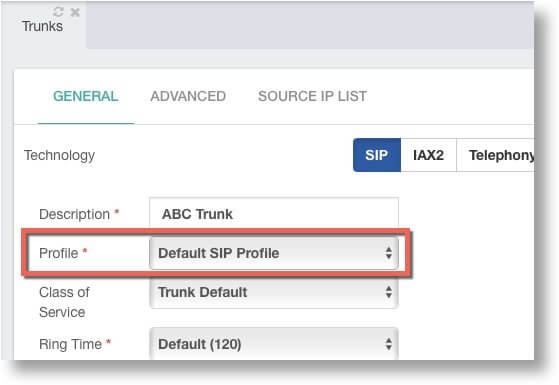 Redundant fields were removed from Trunk settings

In case codecs are defined in both the profile and the trunk settings the trunk setting will prevail (same behavior as in extensions).

On update, SIP trunks will use the default SIP profile where possible. For customized trunks, new profiles will be generated automatically and settings will be copied.
Supervision
Email field added to phonebook contacts

Supervisors can now see call logs of their subordinates
Queues
Custom tab added to Queue settings (PBX -> Call Center -> Queues).  This allows configuring custom queue rules (queuerules.conf), use macros in queues and more.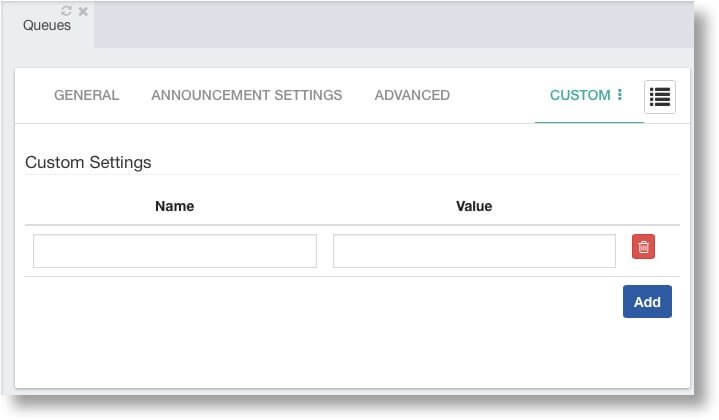 Autofill is now set to "Yes" by default (PBX -> Call Center -> Queues -> Advanced)
StatsExplorer
Unanswered Queue Calls report is now available. The report provides information about unanswered calls in queues, including time, caller ID, wait time, reason (abandoned/no answer).
PBX Backup and Restore
Backup and Restore now also cover the Supervision, StatsExplorer, and Wallboard applications.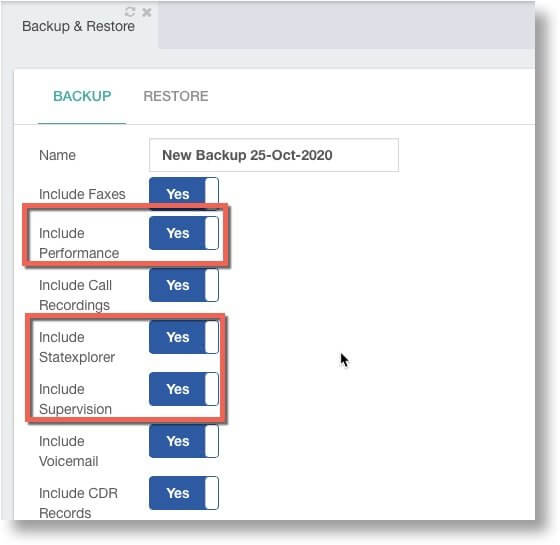 Other PBX Improvements
Change in the "Apply" mechanism provides significantly increased stability when applying changes to CompletePBX configuration while the system is at work with active calls in big installations (typically 2,000 extensions and higher).

Free disk space script now also cleans fail2ban logs

Endpoint Manager now auto-populates the subnet in Scan Subnet for Devices based on the address in the browser.

Wakeup calls retry interval is now configurable in the CompletePBX GUI (Settings -> PBX Settings -> General). The interval value is set in minutes:

PBX Operating System
Asterisk 13.34.0-8:

Exposed call file retry counters to dialplan

Added AMI command "SIPpeersecret" which allows changing of a password of a specific peer

Prevent Asterisk crash when the hostname for a trunk is empty
Bug Fixes
Complete Concierge stopped alerting PMS on unanswered wakeup calls

Wrong behavior of snoozed calls in case of a repeating wakeup call setup

In case of wakeup calls with multiple retries, every wakeup call retry was reported to the PMS as a stand-alone call

FollowMe did not work properly in certain settings (Record Caller's Name = Yes, Prompt Calee = Yes, Call-from Prompt = default)

Backup failed when call recording is performed or when there is a big call recording volume

Recordings failed to play in Chrome in some CompletePBX versions

Supervision call history did not work properly is opened before the user got any calls.

Supervision single-sign-on did not work in case of HTTP redirect to HTTPS

Dynamic agents remained listed in Queue after their deletion from the system

SIP configuration failed upon restoring a backup from a virtual machine onto a CompletePBX appliance and vice versa

Wrong presentation (missing details) of some calls in Cloud Call Recording

Supervision Companion (click to dial) did not work properly on HTTPS