Xorcom CloudPhone Softphone Mobile App
Xorcom CloudPhone is a mobile softphone app for iOS and Android phones.  It is fully integrated into CompletePBX, including provisioning and user management.
The Xorcom CloudPhone allows the user to take their PBX extension and all PBX features with them on the go.
CloudPhone CompletePBX module requires a license on the CompletePBX system.
The CloudPhone apps are free to download from the Google Play and Apple App Store.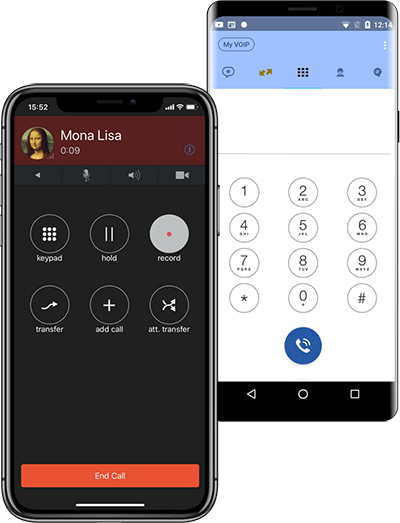 Minimum supported versions
CompletePBX – 1.5.7 
MT Manager – 1.0.22
CloudPhone mobile softphone app to CompletePBX with seamless deployment tools, SNMP monitoring, compatibility with IDS PMS, new Vtech models support and API improvements.
Xorcom CloudPhone License Types
There are three CloudPhone license types:
Dynamic license for MT Manager (P/N LC0506) – this is a pay-as-you-go license that allows the admin to create licenses on the go and pay per usage.
Dynamic license for MT Manager hosted on Xorcom Cloud (P/N LC0555) – this license is similar in functionality to the previous license.  Prices differ.
Annual license for CompletePBX (P/N LC0106) – this license type allows the purchasing of a fixed quantity of users in advance.  
How to Install and Set Up CloudPhone Softphone on CompletePBX
Step 1 – Activate the CloudPhone CompletePBX Module
On MT Manager Systems
Go to Edit Tenant -> Apps

Switch CloudPhone to Yes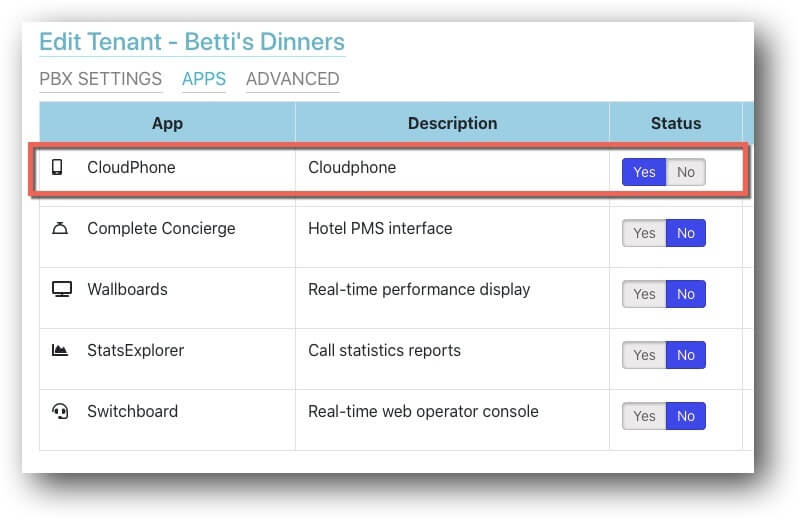 Read and accept the comments in the pop-up window

Click Save at the bottom of the screen

The system will now indicate the installation.

 Once done, you will see the CloudPhone icon in the tenant line and the tenant is ready to start working.
On Stand-Alone CompletePBX Systems
Make sure your CompletePBX system is of version 5.1.7 or higher.  If not, first update your system by running "yum update"
IMPORTANT NOTE
When upgrading any CompletePBX system (excluding Spark) from version 5.0.59 or older, follow the following procedure:
1.  run  
yum install xorcom-centos-release
2.  run
yum update
This will ensure the system will be updated from the correct repositories.
Purchase the CloudPhone license (via the licensing portal or a direct order)

In the command line, run the following command:  xlic register "license_code"

Once installed your system is ready to go
Step 3 – Install CloudPhone on the Mobile Device
After completing step 2, the user will get an email containing a link to download the app and a QR code

The user should install the app from the relevant application store and run it

The initial screen will show a Scan QR button.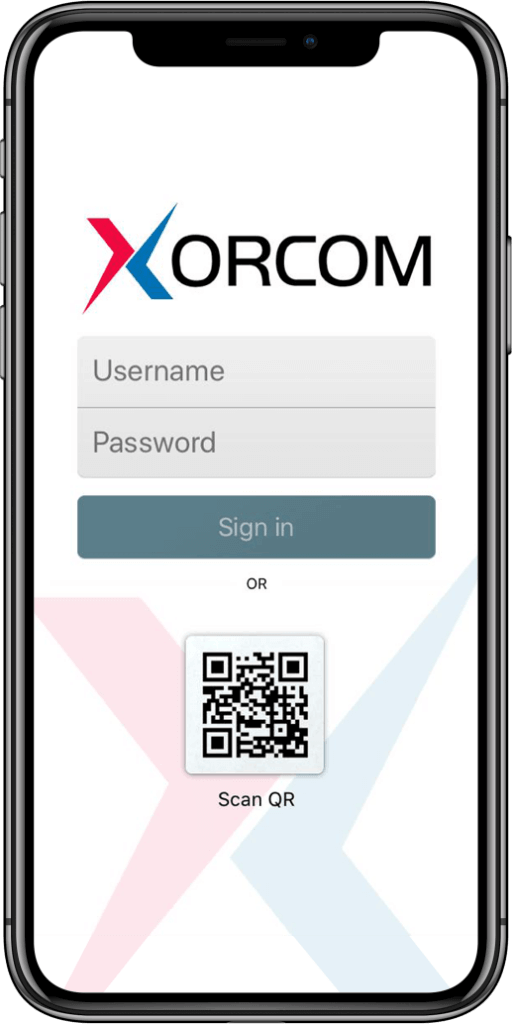 Press the Scan QR button and scan the QR code received in the email.  

Note:  there is no need to enter a username and password manually 

The app will configure and be ready to go