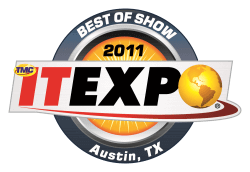 IP-PBX from Xorcom Awarded "Best of Show" at ITEXPO West 2011
XE Series Business Telephony Systems Recognized as the Best of Open Source at the Leading B-2-B Communications Trade Show in Austin, Texas
Misgav, Israel – October 17, 2011 — Xorcom today announced that its XE Series IP-PBX for VoIP and traditional business communication solutions received a "Best of Show Award" in the Open Source category at TMC's recent ITEXPO West 2011 in Austin, Texas. Xorcom's XE Series of high-end IP-PBX models, all based on Asterisk® — the leading open source platform for telephony — feature built-in redundancy and premium components for top-notch reliability and performance, and an integrated touch panel for easy access to system maintenance features.
Xorcom XE Series IP-PBX Provides Maximum System Uptime with Built-in Redundancy
All members of the XE Series handle both traditional (Public Switched Telephone Network) and VoIP calls. In addition, they feature microprocessor-based temperature control with redundant fans, redundant hard disk drives, internal backup and recovery support, and an LCD (Liquid Crystal Display) touch panel for easy access to system parameters. As a result, the XE Series offers businesses of varying sizes (from 200 to 1000 users) all the benefits of open source without sacrificing the reliability of proprietary phone systems. The XE Series is both flexible and cost-effective, supporting high-density requirements and easy integration of third-party applications while ensuring maximum system uptime with built-in redundancy and failover options.
Significance of Best of Show Awards
The ITEXPO Best of Show Awards recognizes innovative products and solutions that were featured in the exhibit hall during the event.  This designation serves to highlight the technological achievement and creative product features that set these winners apart from the rest of the crowd.  TMC's editorial staff evaluated the pre-show nominations and met with vendors to inspect and review the displayed products on the first day of the Expo. This latest achievement is Xorcom's sixth straight 'best of show' award, attesting to the company's commitment to continually develop and expand its communications offering to the business community.
"We realize that communication is at the heart of any business and we understand the importance of having a highly reliable system our customers can count on at any time, the XE Series was designed to provide this extra measure of reassurance and we are honored that it has been chosen as a recipient of the IT EXPO 'best of show' award."
"Our event last month in Austin raised the bar in every conceivable way – from conference content to attendee count, and for the quality and breadth of the products and solutions showcased on the Exhibit Hall floor, we're pleased to honor Xorcom with a 'best-of-show' award, and we congratulate them for standing out amongst a large and highly competitive field."