Xiamen, China, and Misgav, Israel
May 11, 2017 – Yealink, the global leading unified communication (UC) terminal solution provider, and Xorcom a leading provider of PBX appliance and virtual PBX systems announced improved support for Yealink IP phones in Xorcom's CompletePBX IP PBX product line.  CompletePBX now supports provisioning for Yealink T4S series phones including the T41S, T42S, T46S, T48S models.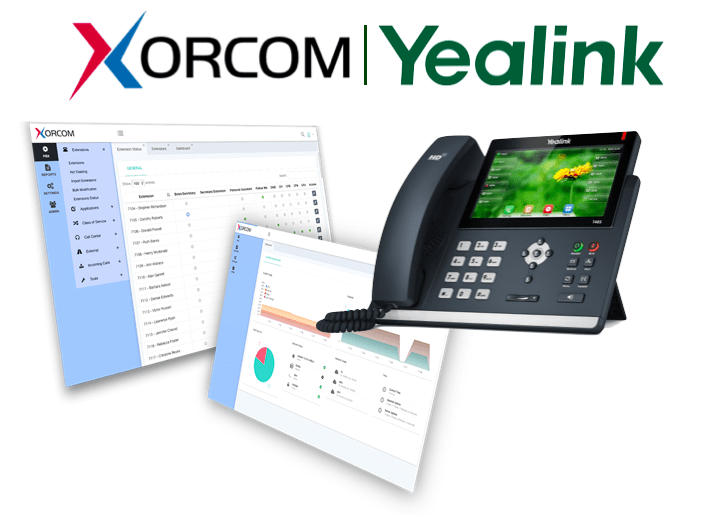 "We have a long and fruitful cooperation with Yealink, " says Eran Gal, CEO of Xorcom "and we have an ongoing commitment to continue and support new Yealink models in all of our appliances and virtual PBX systems."
"We are very glad to offer the interoperability with Xorcom's VoIP solution," said Stone Lu, Yealink Vice President. "By working together, we help customers take advantage of the robust cost-efficient capabilities and the high performance of our solutions."
Yealink's T4S series is the upgraded IP successor to the T4 series. The Yealink T4S series features an elegant appearance, Optima high-definition audio quality, and a remarkable phone experience. Integrating cutting-edge features like Wi-Fi and Bluetooth connectivity, the T4S series enriches business users' daily collaboration. More information about Yealink phones can be found at Yealink's Product Page.
About Yealink
Yealink (Stock Code: 300628) is a global leading unified communication (UC) terminal solution provider that primarily offers video conferencing systems and voice communication solutions. Founded in 2001, Yealink leverages its independent research and development and innovation to pursue its core mission: "Easy collaboration, high productivity." The company's high-quality UC terminal solutions enhance the work efficiency and competitive advantages of its customers in over 100 countries. Yealink is the world's second-largest SIP phone provider and is number one in the China market. For more information, please visit www.yealink.com.
About Xorcom (www.xorcom.com)
Xorcom provides business phone systems since 2004. Xorcom's products support small business phones systems to enterprise PBX, high-availability, and advanced management tools. Xorcom's CompletePBX is available both as an appliance and as a virtual machine to support a broad range of installations whether on-premise or on the cloud. The CompletePBX product line is designed from the ground up to be easy to use, secure and extremely flexible.